5 Most Effective Types of SEO You Need to Know Make it Big on Google
If there is one digital marketing technique that most marketers swear by, it is none other than Search Engine Optimization (SEO). Marketers (us included) absolutely love SEO because it is cost-efficient and works for any business.
And yet, some fail to grasp its multifaceted nature.
You might think that having a neat website with relevant keywords will help your business conquer competitors on search engines. This is true, to a certain extent. But if your SEO strategy focuses solely on a pleasant site and keywords, you might not be able to maintain your ranking on search engine results pages (SERPs).
Not being harsh, just being real.
News flash: mastering SEO isn't just about focusing on one aspect. It's about having a solid understanding of the various types of SEO out there.
Wait… What?
How many types of SEO are there?
Quite frankly, there are numerous types of SEO. But there's no need for you to spend too much time studying each and every single one because we've highlighted just 5 must-know techniques.
5 Types of SEO You Must Know
Ready to broaden your organic marketing game? Take a look at 5 of our picks.
1. Onsite SEO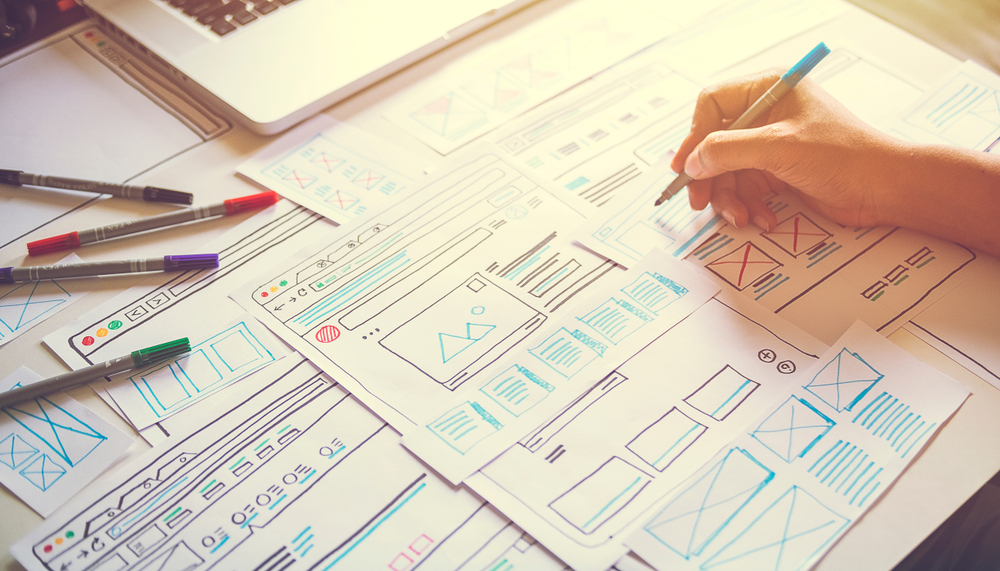 Picture this: after graduating, you are trying to apply for a job at a bank. But you have heard about how steep competition is for fresh graduates. Therefore, you proceeded to create an account on every job site you could think of. This way, it's easy for recruiters to find your resume.
Onsite or on-page optimization functions similarly. The idea here is that you want your website to be more searchable for search queries.
This involves working on SEO-friendly content, Schema.org Markup, and meta tags. The more optimized they are, the easier it will be for Google to crawl your site and rank it for various search queries.
Bear in mind that you want your website to be user-friendly for mobile users as well. It's not enough just to have a pretty website that looks stellar on desktop, your website needs to be usable on phones as well.
2. Off-page SEO
This tweet from NP Digital says it all.
Yes, links still matter for Organic Search.

— NP Digital (@NPDigitalUS) June 8, 2020
Think of external links as supporting evidence to add credibility to your website. Basically, if Google observes that your website is getting tons of backlinks, your website appears more trustworthy in its eyes.
Do note, however, that effective linkbuilding isn't just about dropping an email to any random publishing site on the internet. It is about assessing other websites, investigating if your target audience is on those sites, and checking out the domain rating.
Sure, a backlink might be great in helping your website appear more credible to Google. But if no visitors are going to click on your anchor text, you might be better off finding other websites for backlinks.
3. Technical SEO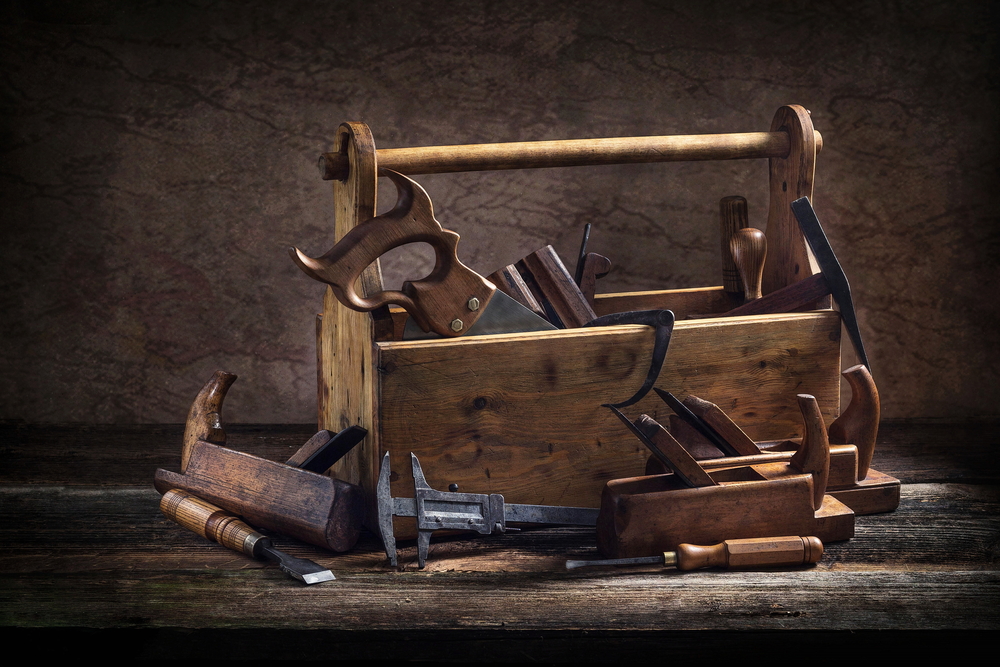 Let's use the job application analogy again.
When you are called for an interview by a recruiter, you want to make a good first impression by dressing to the occasion and appearing approachable. On the day of the interview, you dressed in your cleanest suit, spend 10 minutes gelling your hair, and spritzing a light but pleasant cologne that just screams "I'm confident".
Well, that's exactly what technical SEO entails. It is probably one of the most well-known types of SEO but it is easily confused with onsite SEO.
"Technical" optimization simply refers to act of beautifying and tidying up your website. A user-friendly website with easy and straightforward navigation is definitely going to help you earn brownie points with Google Algorithms.
Basically, Google wants to users to enjoy a flawless experience when they are surfing the internet. If you want to rank on Google, make sure issues like slow loading speed, spam, broken links and mess are fixed.
On the other hand, you would want your website to be as clean and user-friendly as possible. You might need to put your website through an audit to uncover any unseen issues.
4. Local SEO
Here's another scenario: let's say you are feeling super hungry after a workout and you are in dire need of some protein. You ask Google for eateries selling healthy foods and you get a list of places selling salad, acai bowls and more with pictures, addresses, and customer ratings.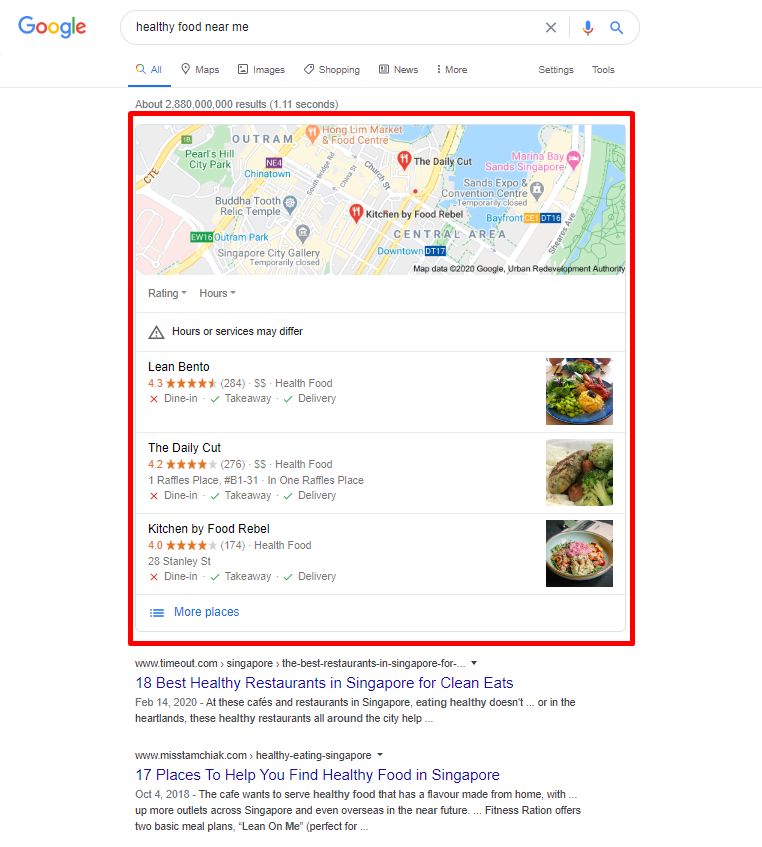 Are the results in the red box more eye-catching than the ones below it?
Definitely.
That's basically how a locally-optimized business looks like on search engines.
The idea here is to make your business seem more approachable by having relevant information like phone number, address, pictures and reviews on your Google My Business listing. The more information, the better.
5. Content SEO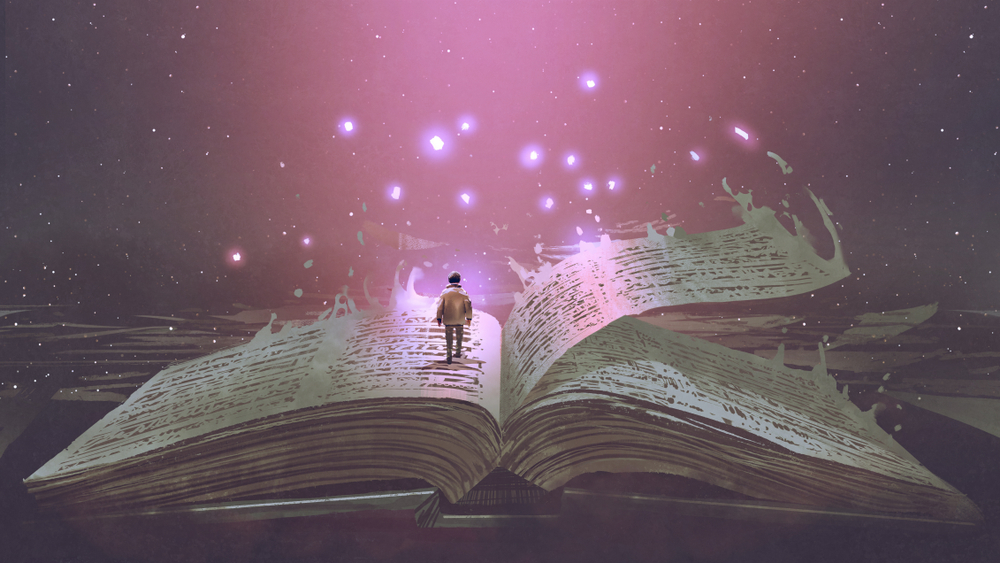 Some marketers might feel like content SEO should fall under onsite SEO as it involves incorporate relevant keywords and keyphrases. But here's why we think content SEO deserves a spotlight too.
Peppering your content with keywords isn't going to work. Instead, optimizing your content is about integrating those keywords into your website, bulking up existing content, and creating engaging and valuable copies that will cater to your reader's search queries and needs.
It is about telling a story that connects with your readers.
And trust us when we say that quality content does make a huge difference.
If Google's panda algorithm deems your content as crappy, it is probably going to penalize your website.
Do I Need to Bother if I am Not Using Google?
Here's another fact you might not know: Google isn't the only search engine out there with the potential to drive quality traffic to your website.
There are various other search engines beyond Google. While it does take some reading up to understand how their algorithms work, its important to understand that SEO is not one-dimensional. It is ever-changing and constantly evolving. That's what makes digital marketing on search engines so exciting!
Ultimately, the rule of thumb here is to continuously keep yourself updated with the latest digital trends and algorithm changes. Respond to changes accordingly and play by the rules.