Best SEO Courses, Training, And Certifications In Singapore
As digital marketing grows in importance, businesses need to ensure their marketers have the necessary skills and knowledge to take advantage of Search Engine Optimisation (SEO). While SEO can help companies improve their online visibility and ultimately grow their revenue, formal training is usually required to achieve these goals. 
Fortunately, Singapore has a wealth of certified SEO training opportunities for marketers looking to learn and gain expertise in this field. From globally recognised certifications to locally-tailored courses, marketers can find an option that best suits their needs and further sharpens their skills. In this guide, we will explore some of the best SEO courses, training and certifications in Singapore.
Get Certified: Sign Up For These SEO Training Courses in Singapore
Here's an overview of the best places to learn SEO:
1. HubSpot Academy
HubSpot has become a leading industry name when it comes to digital marketing and sales software. You can create a HubSpot Academy account to get access to an extensive range of courses, including their free SEO certification course. 
From keyword research to website optimisation, this course offers valuable insights that can be put to use right away. It covers the latest best practices in SEO, equipping you with the skills and knowledge to evaluate and improve your website's SEO on an ongoing basis. Upon completion of this course, you will earn an official certification from HubSpot Academy.
HubSpot Academy also offers other certifications, such as content marketing and inbound certification courses.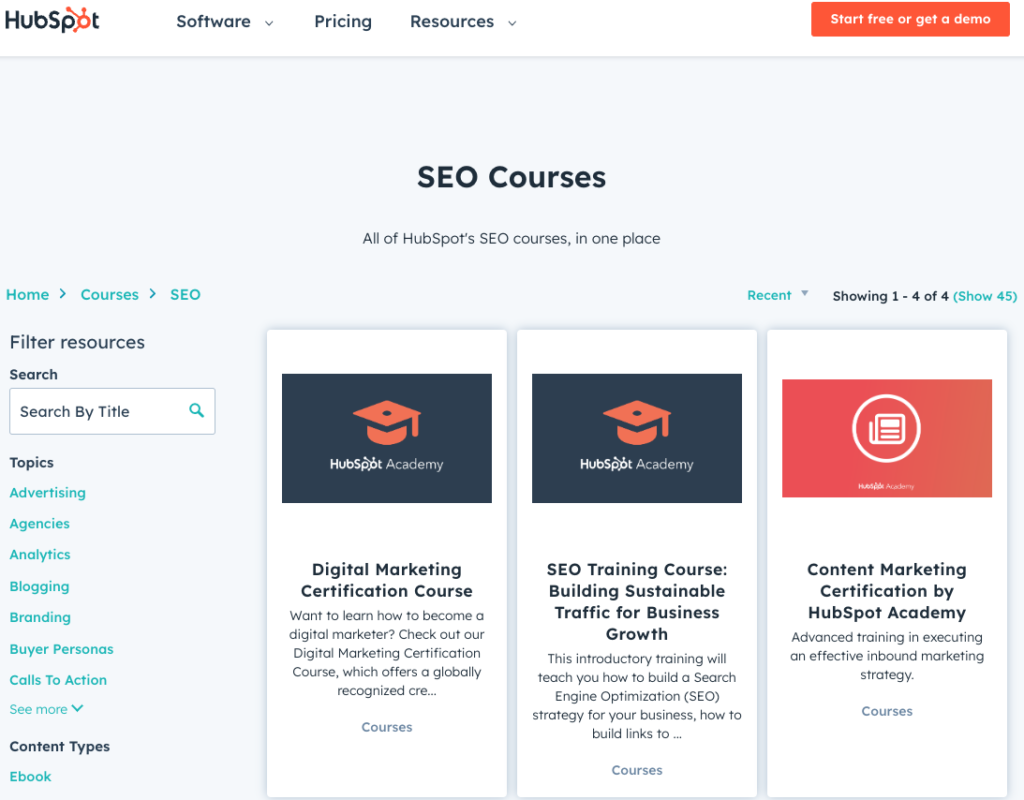 2. Ahrefs Academy
With a reputation as one of the most comprehensive SEO tools on the market, Ahrefs offers a range of educational resources in Ahrefs Academy – an online school to help businesses and professionals optimise their online presence. In their SEO Course for Beginners, for example, you'll learn the importance of SEO and get practical tips for keyword research and page optimisation. 
This free course is geared towards beginners and offers an easy-to-follow approach to link building strategies that will get you backlinks to your site. In just 14 lessons, you'll have a solid understanding of SEO and be able to apply these principles to your own website. 
You can also go one step further and learn how to effectively utilise Ahrefs' tools, data, and SEO metrics in their Ahrefs Certification Course. While a certification exam is not yet available, users can dive in and start learning right away. This course is a must-have for anyone serious about SEO. 
3. Yoast SEO Academy
Yoast is a widely recognised SEO plugin for WordPress websites, and its Yoast SEO Academy offers in-depth courses – both free and premium – on optimising websites for search engines. Among their free courses are SEO for beginners, WordPress for beginners, and Yoast SEO for WordPress plugin training. 
The free version is a good starting point for anyone looking to learn more about SEO. However, for those seeking a deeper understanding, the Yoast SEO Premium + academy will provide more in-depth training – with lessons covering all-around SEO, keyword research, SEO copywriting, site structure training, and more. 
While the premium courses do come with a price tag, the level of knowledge and the practical skills acquired through the training are highly valued in the field of digital marketing. Upon completion of a Yoast SEO Academy training course, you will be rewarded with a certificate of completion and a badge that can be displayed on your website or shared across social media platforms.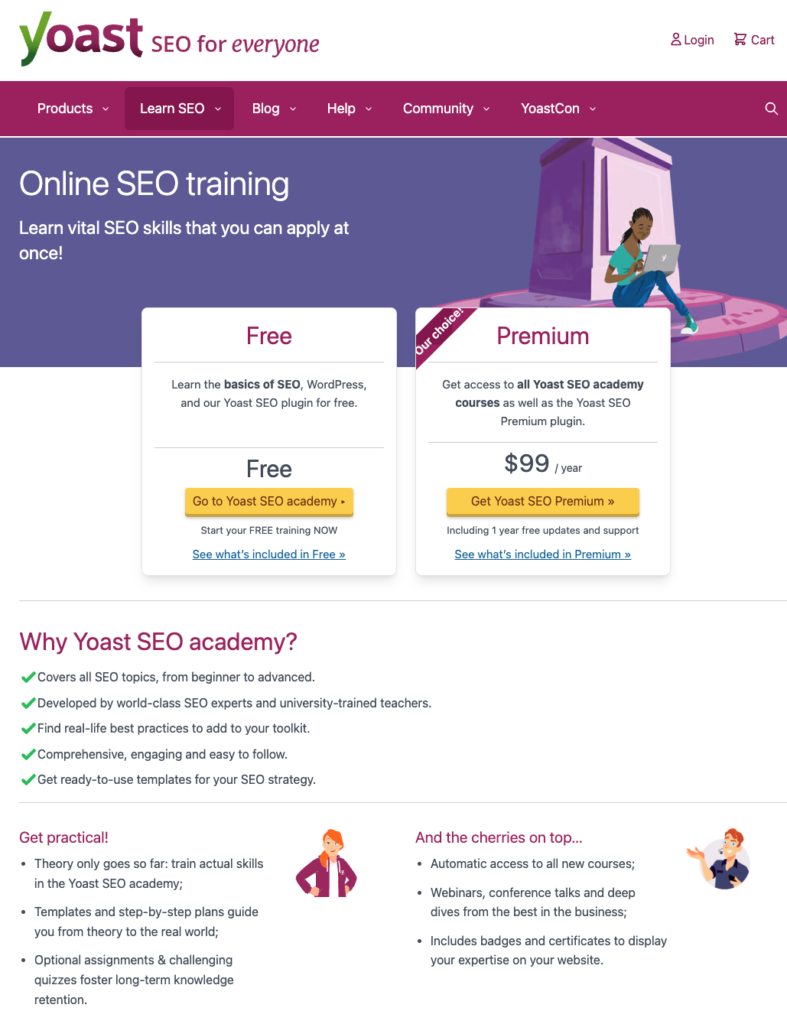 4. SEMrush Academy
SEMrush is one of the most valuable marketing tools for digital marketers. It provides a comprehensive analysis of any domain or keyword, aiding businesses in their SEO, Pay-Per-Click (PPC), content marketing, and social media efforts. But what's even more impressive is SEMrush Academy. 
SEMrush Academy provides extensive courses and certifications to help individuals and teams enhance their digital marketing skills. The best part? SEMrush Academy is entirely free. 
If you are a novice marketer, you can kickstart your SEO learning journey with their SEO Crash Course with Brian Dean. Brian Dean is a name synonymous with SEO expertise and innovation in the digital marketing world. He is not just an SEO expert but also the founder of Backlinko, which is now one of the most popular digital marketing resources online. 
Upon finishing this course, you can put your knowledge to the test with an exam. If you pass, you'll receive a certificate to showcase your accomplishment.Apart from this SEO certification course, you can take your knowledge and expertise to the next level by pursuing other training courses. Courses like the Content-Led SEO with Brian Dean to Marketing Analysis and Where Theory Meets Practice with Fernando Anguloare are tailored for intermediate and advanced users as well as organisations who wish to deepen their SEO knowledge and proficiency.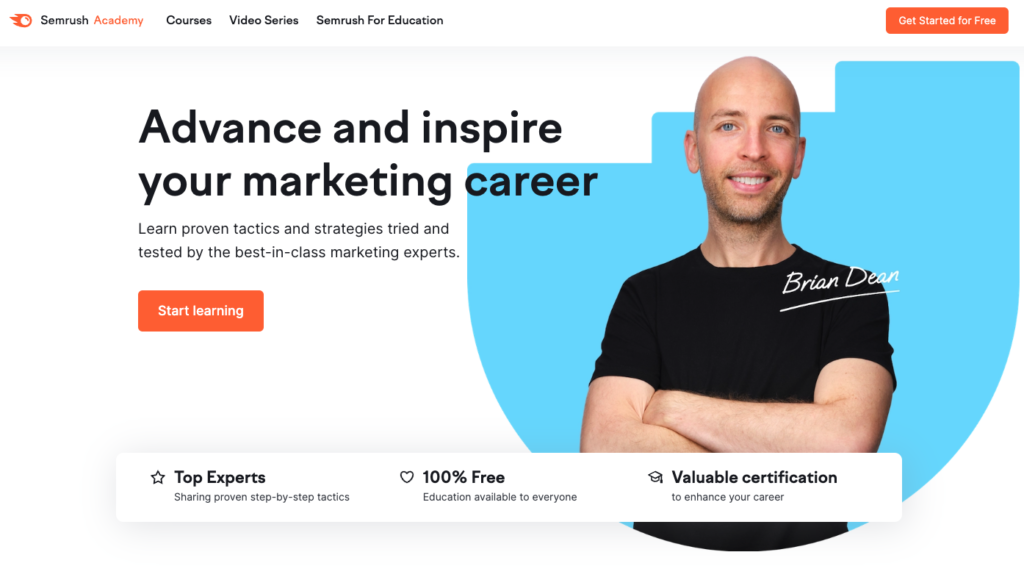 5. BrightLocal Academy
If you're a business owner or agency professional looking to improve your local SEO game, you're in luck. As a free online school, BrightLocal Academy is a fantastic resource designed specifically to teach you everything you need to know about local SEO – for free. 
With a wealth of experience under their belts, BrightLocal has created a range of tools and services to help businesses of all sizes take control of their local SEO strategies. Already, they've helped over 80,000 local marketers achieve success for their brands and clients.
With a wide range of courses to choose from, you will be able to explore topics in depth and learn valuable tips and tricks along the way. Plus, you can navigate between lessons and modules to focus on what you need when you need it, ensuring you get the most out of your time. At the end of each course, you can earn a certificate to display on your professional profile to demonstrate your knowledge and expertise in local SEO.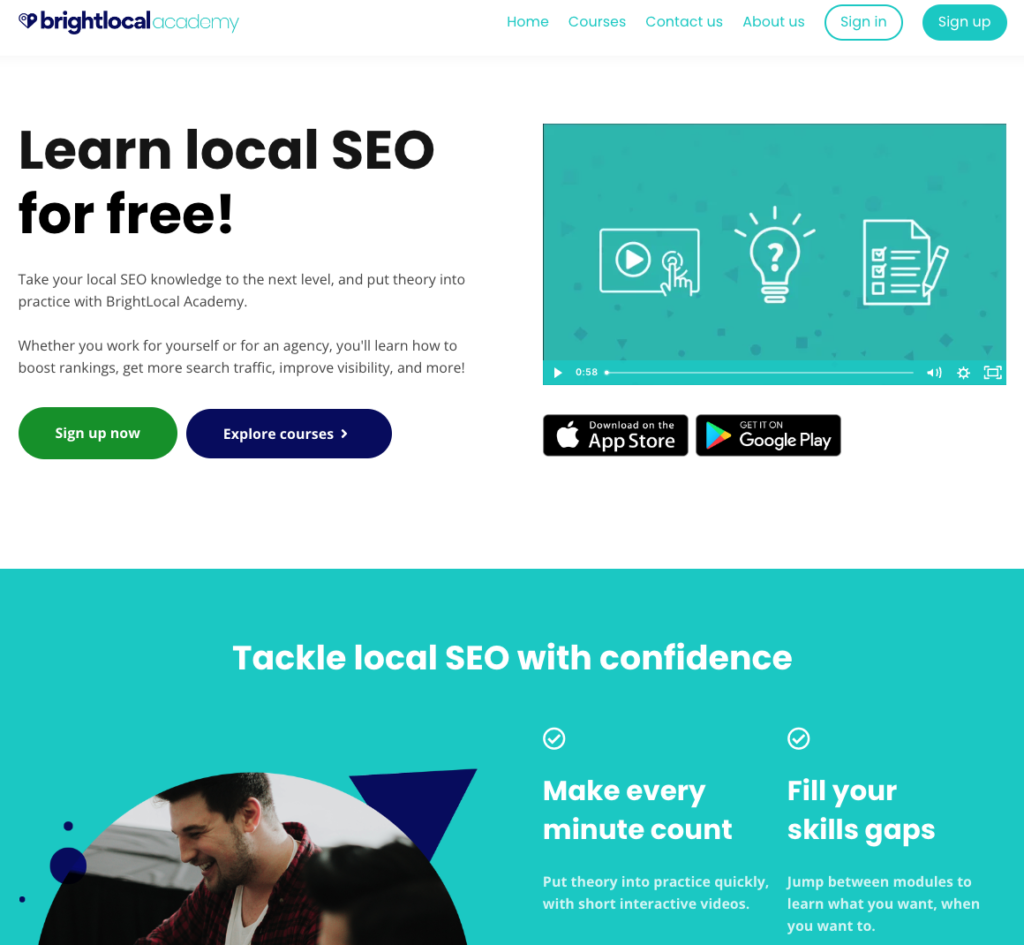 6. Moz Academy
With easy-to-follow lessons and expert instructors, Moz Academy offers a multitude of resources to help you develop your knowledge of SEO. What's great about these courses is that they're broken down into smaller, accessible sections so that you can learn at your own pace and on your own schedule. With hands-on activities included, you will have plenty of opportunities to apply what you have learnt. 
Whether you're looking to brush up on your existing SEO knowledge or learn something entirely new, Moz Academy is definitely worth exploring. You can begin your learning journey for free or opt for the paid courses. 
For beginners, the SEO Essentials Certification Series is highly recommended, as it covers foundational information on keyword research, on-page optimisation, link building, and reporting. This certification course also delves into how search engines operate and how SEO can impact your website's ranking.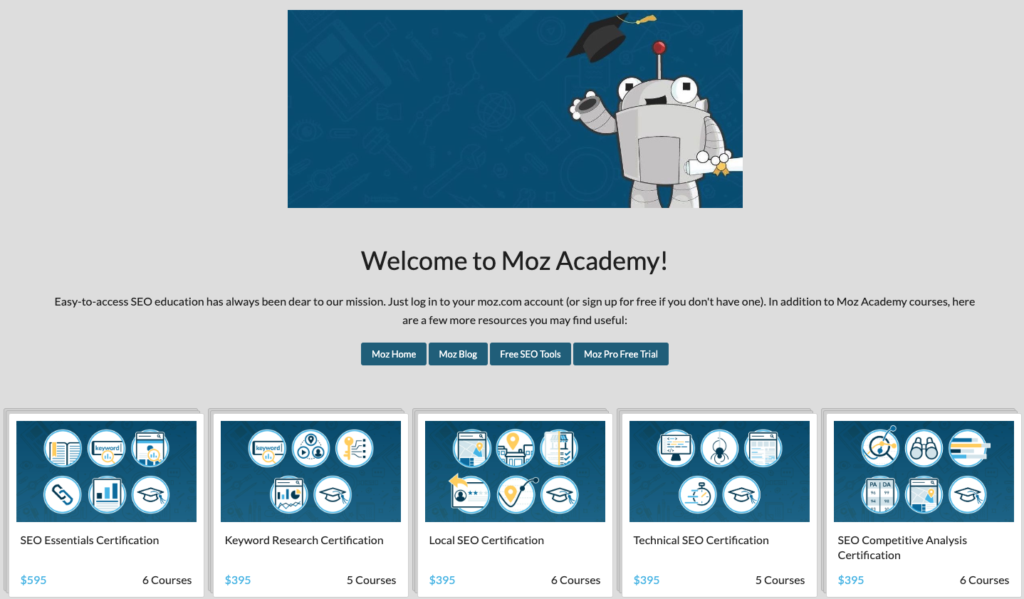 7. Bruce Clay Inc.
Since its establishment in 1996, Bruce Clay Inc. (BCI) has been a driving force in helping websites rank higher in search engines. Over the years, they have expanded their services and expertise to provide clients with top-tier SEO services and consulting, PPC advertising management, content development, and social media marketing services. 
Moreover, BCI operates a comprehensive online training and membership site, SEOtraining.com. For those looking to master the art of SEO themselves, consider the intensive SEO Training course led by Bruce Clay. Through 15+ hours of instruction across 48 videos, this course offers the latest insights and techniques for achieving sustained success in the world of digital marketing.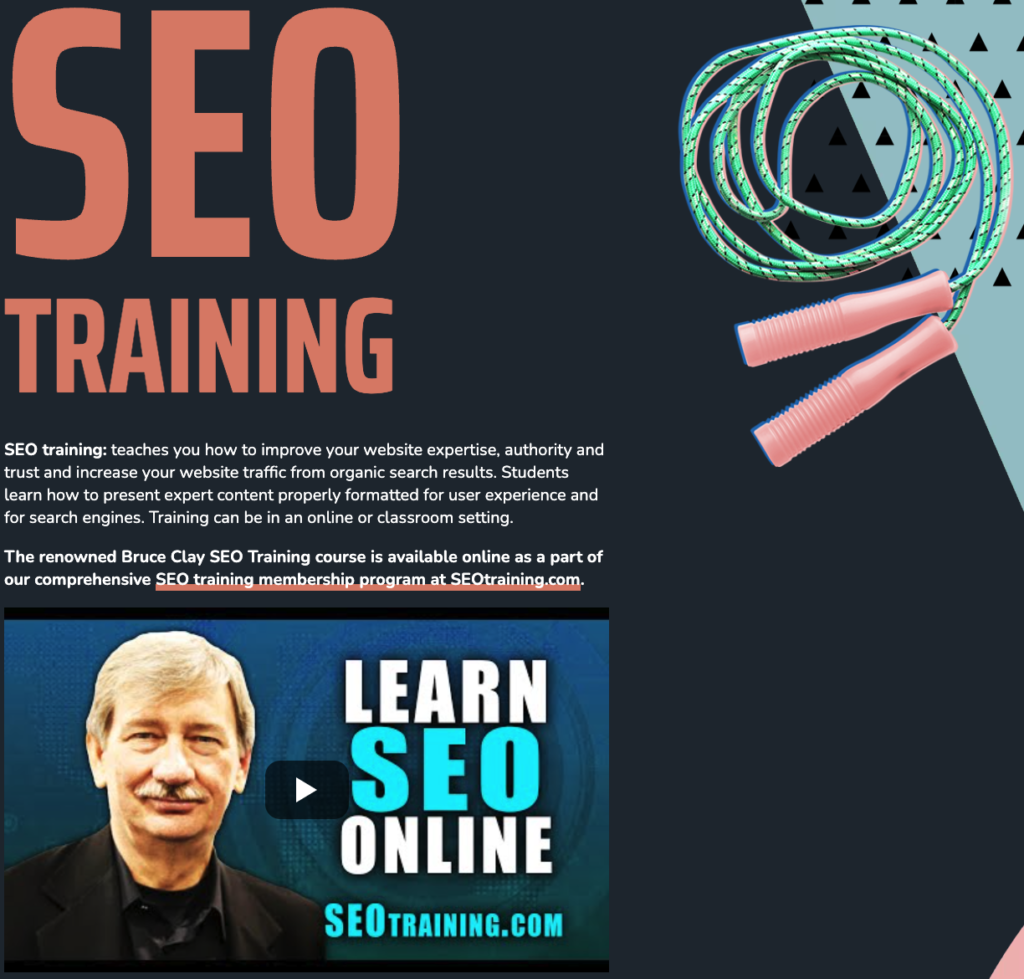 8. SE Ranking Academy
Drawing from their expertise in search engine behaviour, the team at SE Ranking launched the SE Ranking Academy, where they collaborate with industry experts to deliver a comprehensive guide on how to optimise a website for better search results. Their in-depth step-by-step approach breaks down the process into manageable chunks, ensuring that even those who are new to the world of SEO can understand and implement these strategies.
With an active subscription, you can have access to an array of courses related to SEO. Watch and review lessons at your own pace to ensure that you comprehend every detail before moving forward. Not only that, you get to take tests to assess your knowledge and track your progress, which helps you identify areas that need improvement. At the end of the course, you will receive a certificate from SE Ranking Academy. 
9. Udemy
Udemy, a popular online learning platform, offers an abundance of courses on various topics including SEO. Free courses are available, perfect for those who want to dip their toes into a subject without committing to a paid course. However, keep in mind that free courses do come with a few limitations. For instance, certification is unavailable for free courses. 
If achieving certification is your goal, it may be worth investing in a paid course. With that in mind, you can check out the SEO Training Masterclass 2023: Beginner To Advanced SEO by Alex Genadinik. With a wide variety of successful courses already under his belt, Alex brings his expertise to the table in this 17.5 hour course covering everything from search engine basics to creating a solid SEO strategy for your business. 
Through this Udemy course, you'll learn how to optimise your website and will gain invaluable insight on how search engines work, including the ins and outs of Google and YouTube. The course also provides guidance on working with SEO on popular platforms such as WordPress, Shopify, and Wix.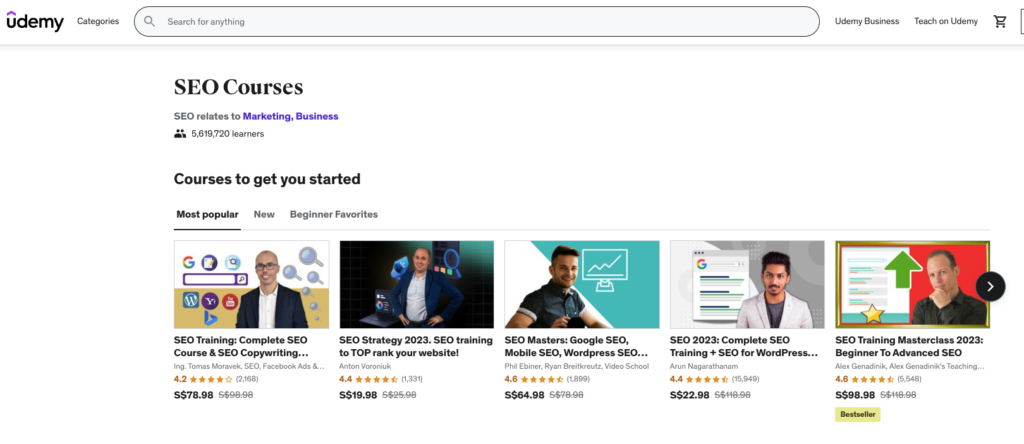 10. Skillshare
Skillshare offers a unique opportunity for individuals looking to expand their knowledge and learn new skills. This online learning community welcomes anyone to discover, take or teach a class within an extensive range of topics like SEO. 
Signing up is quick and easy, and you can explore classes before committing to a subscription. With the ability to watch videos, engage in discussions, and receive feedback on your projects, Skillshare provides a comprehensive learning experience.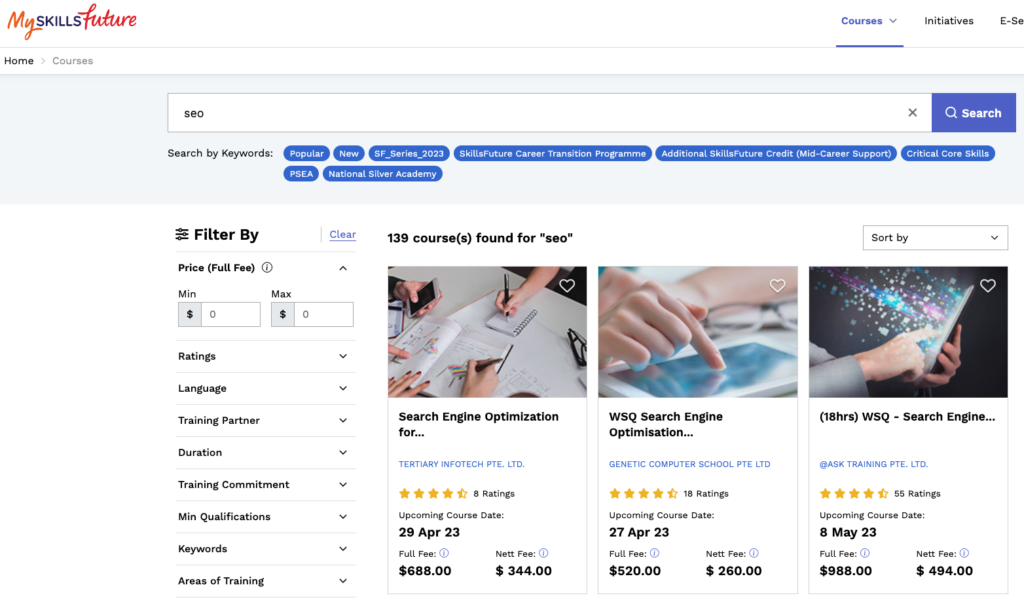 11. Coursera
Through partnerships with over 275 esteemed universities and businesses, Coursera delivers online learning opportunities that cater to the needs of individuals and organisations all around the world. Ranging from practical courses to job-ready certificates and degree programmes, there are plenty of options to choose from. 
You can enrol for free and start browsing through various SEO certification courses conducted by Google, Digital Marketing Institute, the University of Colorado Boulder, The State University of New York, and the University of California, Davis – to name a few.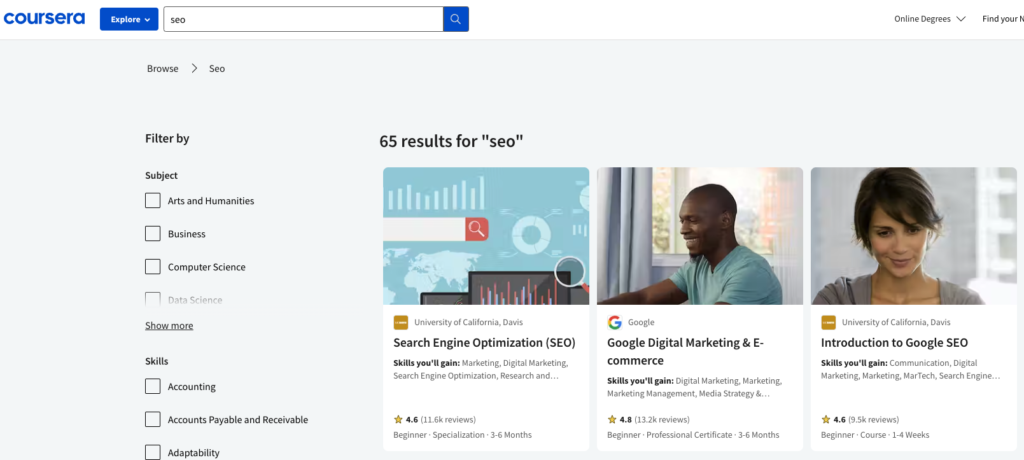 12. LinkedIn Learning
At around S$27, LinkedIn Learning offers a comprehensive resource for professionals looking to develop and refine their skills. As a member, you'll have access to an entire library of content that spans a range of fields and interests, including SEO. Plus, you can post the completed courses to your LinkedIn profile, showcasing your new skills. 
The platform also provides customised recommendations based on the skills you're interested in, making it easy to tailor your learning experience.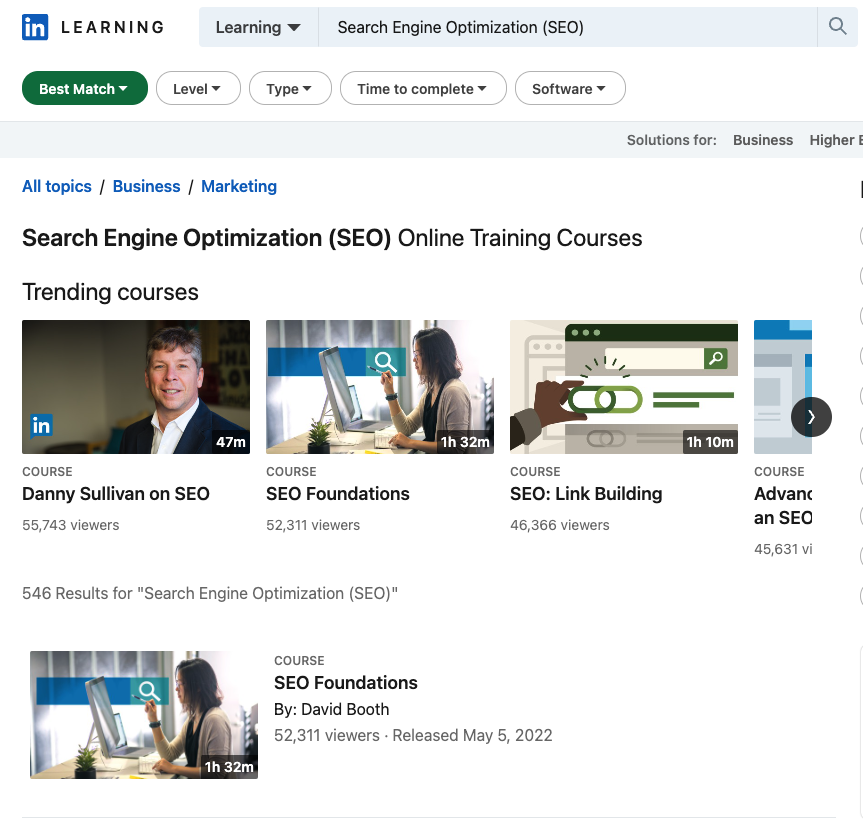 SkillsFuture Courses to Learn SEO in Singapore
Besides the above-mentioned places to learn SEO, there is another option that is often overlooked – SkillsFuture courses. If you are looking for more ways to hone your expertise in SEO, this will be the next best resource for SEO training.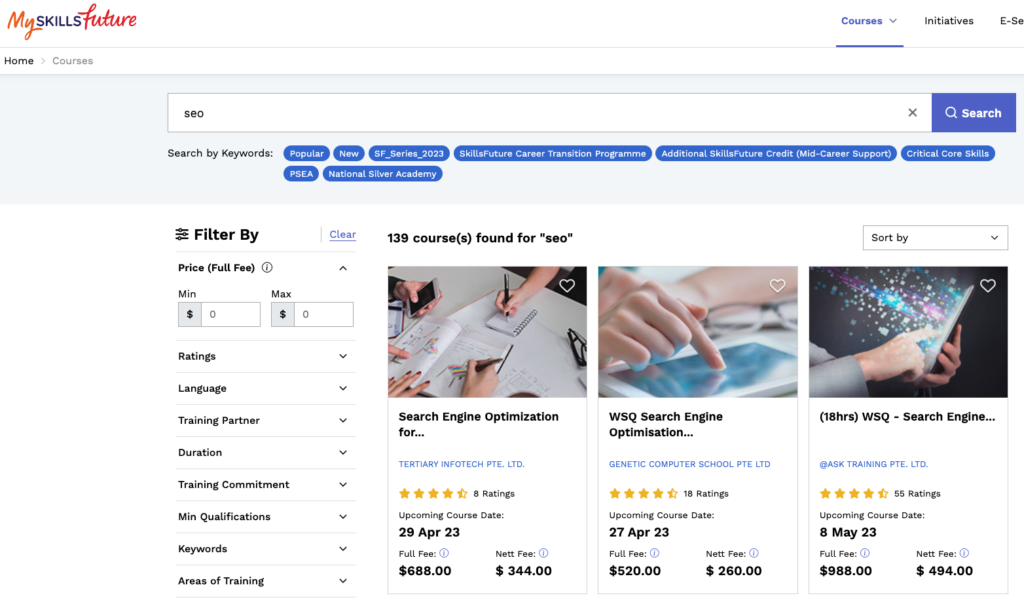 In fact, Singaporeans aged 25 and above are eligible for SkillsFuture Credit, which can be used to reduce out-of-pocket expenses when taking up any course found on the MySkillsFuture portal. This makes it more affordable for individuals to pursue learning opportunities and upskill themselves. If you are interested to find out more, there are several SEO training courses available – all of which can be paid using SkillsFuture Credit:
1. KnowledgeHut
As a leading training provider, KnowledgeHut has established itself as a reliable partner in ensuring continued professional development among aspiring IT managers and executives. With a focus on bridging the skills gap and helping organisations drive business success, KnowledgeHut is committed to staying ahead of the ever-changing technologies in the industry. 
Check out their Search Engine Optimisation (SEO) training course where you can master the core principles of SEO. Priced at S$700, you will also acquire knowledge and skills to plan content to achieve long-lasting results.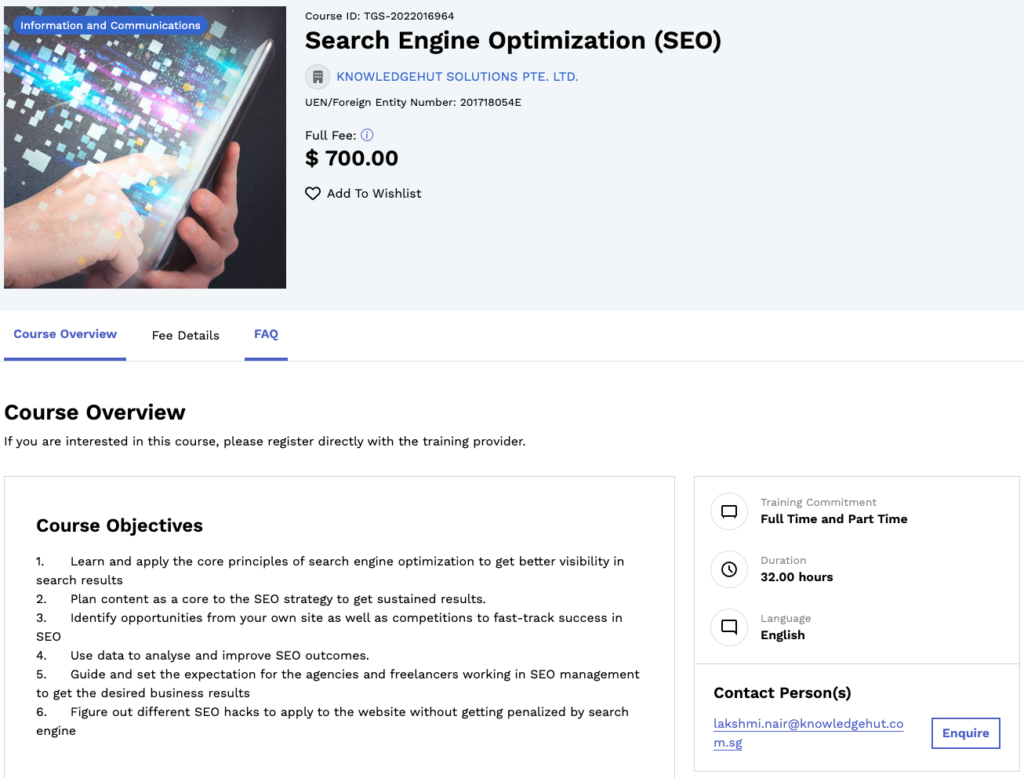 2. Tertiary Courses
Since its establishment in 2014, Tertiary Courses has been offering technical training and courses across different industries, providing individuals with the knowledge and skills needed for their professional development. As a subsidiary of Tertiary Infotech Pte Ltd, they have training centres in Singapore (headquarter) and Malaysia. 
In their Search Engine Optimisation for Small and Medium Enterprises, you can gain the skills and knowledge needed to manage and monitor SEO campaigns across various channels effectively. At S$688, you will know the steps to take to strengthen the online presence of your organisation – whether it's optimising your on-page content or tracking Google Analytics dashboards.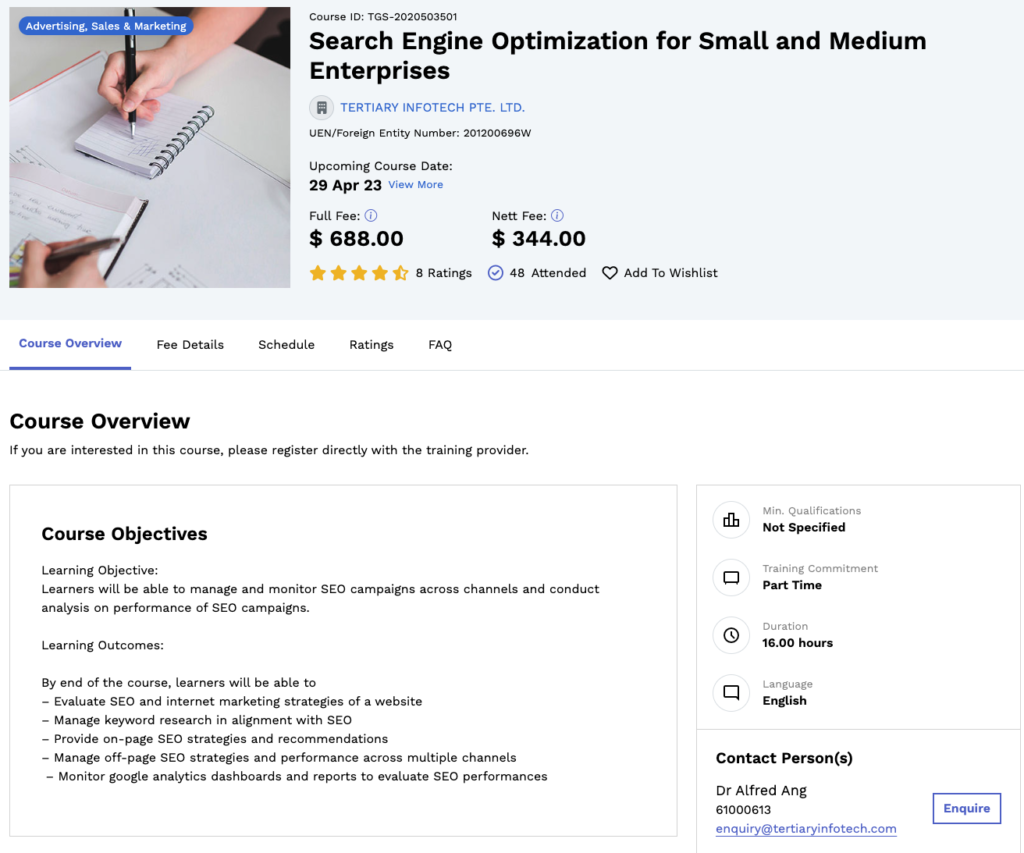 3. Genetic Computer School
Genetic Computer School offers a comprehensive range of short courses and certification programmes to help individuals develop their skills and stay up-to-date with the latest technological advancements. From Adobe to Office Productivity and Digital Marketing, their courses are tailored to suit the needs of today's workforce. 
Their Workforce Skills Qualifications (WSQ) Search Engine Optimisation (SEO) – level 3 is divided into six sections, beginning with an in-depth analysis of how Google search engine works and what to optimise on your website. At S$520, you will be able to increase your website's page ranking and improve your online presence.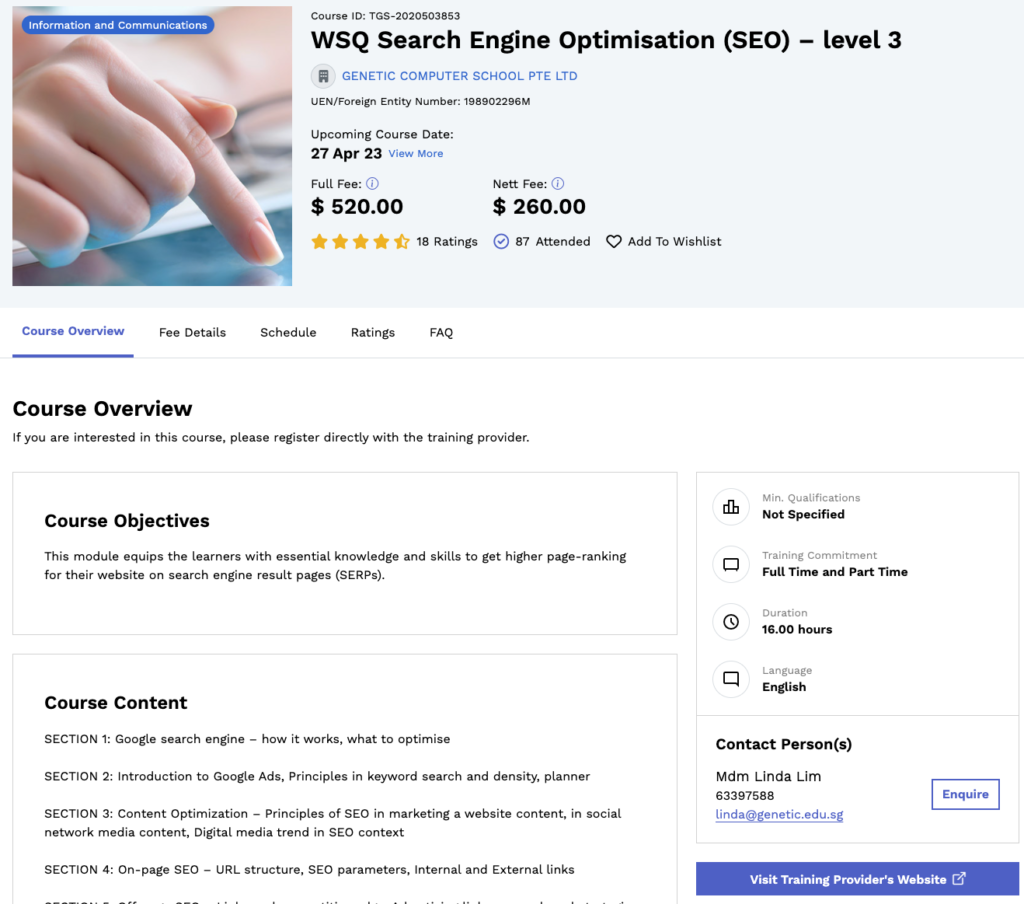 4. Equinet Academy
Equinet Academy is a leading training provider that has earned a reputation for delivering quality learning experiences. Their team of seasoned professionals bring decades of experience to the table, allowing them to offer insights that are both valuable and actionable. Since their establishment in early 2013, their courses, events, and workshops have been attended by thousands of individuals, small business owners, and representatives from renowned companies.
Through their WSQ Search Engine Optimisation (SEO) Training Course, you will get a hang of the ins and outs of SEO. You will learn how to identify link building opportunities, use competitive SEO analysis tools, and create ROI-focused campaigns. At S$888, you will soon be well-prepared to oversee and manage your SEO campaigns with confidence.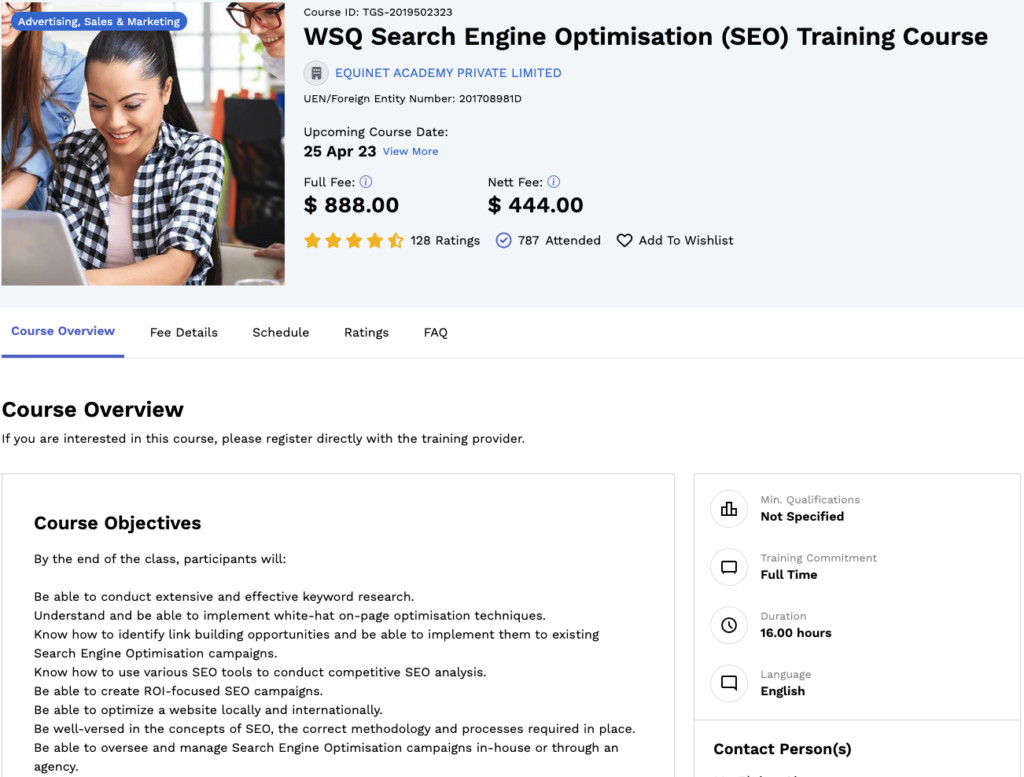 5. Eagle Infotech
Composed of a team of accredited trainers, Eagle Infotech provides training that can cater to your learning needs and professional goals. Their Search Engine Optimisation Essential course, for example, will enable you to take on the challenges of keeping your organisation visible online.  
Throughout the duration of this course, you will master the art of keyword research, while implementing search engine methods to assess SEO performance. At S$700, this course will provide a professional foundation for managing search results and presenting SEO recommendations for elements and structures of websites and web pages.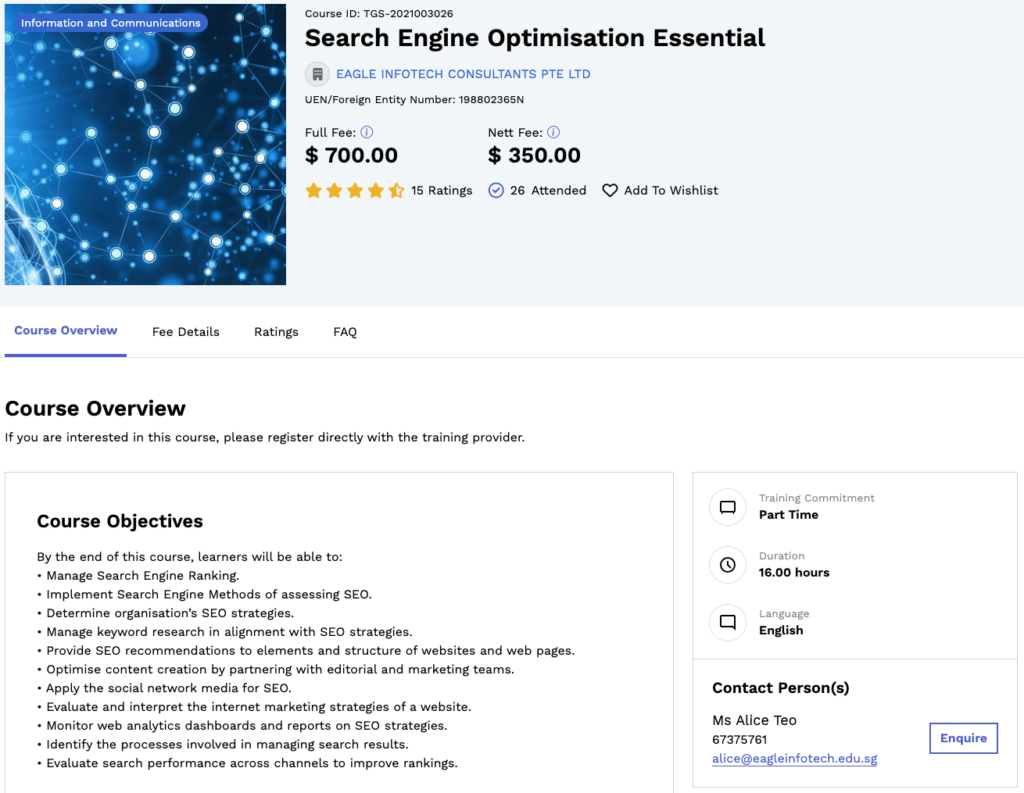 6. Ngee Ann Polytechnic
With a diverse range of courses and programmes, Ngee Ann Polytechnic aims to equip students with the skills and knowledge needed to succeed in any industry. But it's not just the students who benefit – employees are given the chance to build fulfilling careers, with opportunities for professional growth and development. 
Delve into how search engines work and stay updated on the latest Google algorithm updates in their Search Engine Optimisation for Beginners course. At S$500, you will learn how to choose the right keywords and optimise your own website to achieve that coveted spot on Google's first page. With all this knowledge at your fingertips, you can take your online presence to the next level.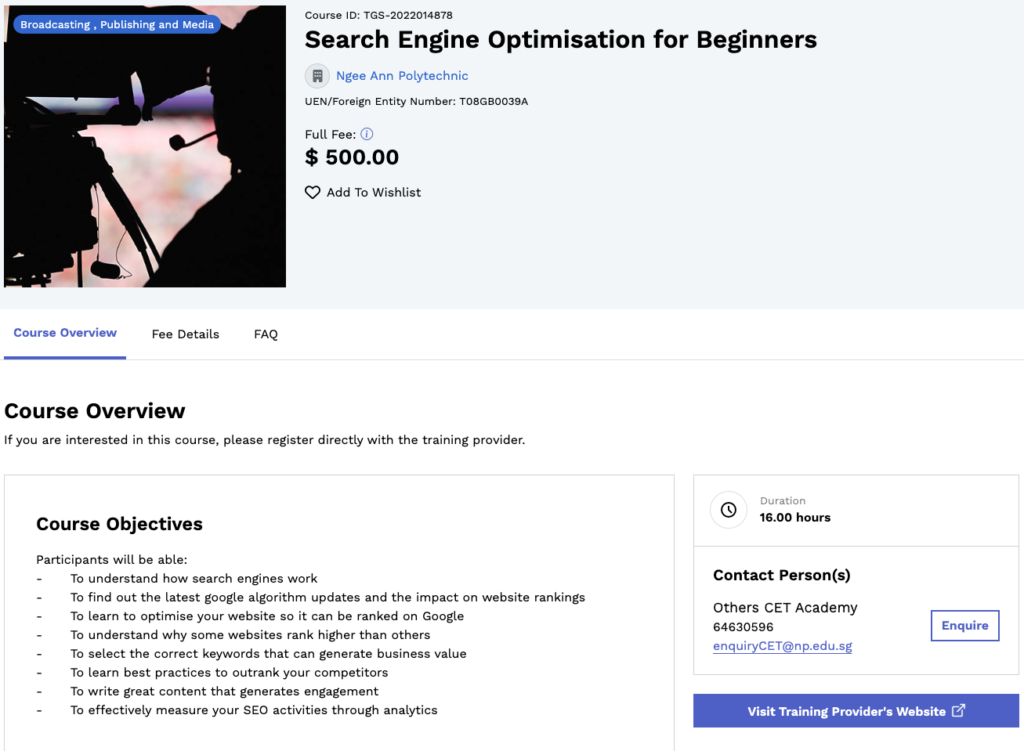 How to Apply For SkillsFuture SEO Courses
To sign up for a SkillsFuture Credit Eligible course, follow these steps:
Explore and choose an eligible course from the Course Directory.

Register for the course with the training provider.

Use your SingPass to log in to MySkillsFuture.

Submit your claim within 60 days before the course start date.
Take note that the subsidy amount depends on the course and the applicant's age. Singaporeans aged 25 and above can receive an initial credit of S$500. Those aged 40 and above are eligible for a higher subsidy of up to 90% of course fees under the Mid-Career Enhanced Subsidy.
Kickstart Your Journey Towards SEO Mastery
With that, we wrap up some of the best places to learn SEO! With the growing importance of SEO, acquiring the right skills and knowledge is crucial for professionals, entrepreneurs, and businesses in Singapore. To stay competitive in the digital realm, a plethora of SEO training and certification courses awaits you. Moreover, the SkillsFuture initiative makes it even more accessible for you to learn about SEO.
Now is the time to learn more about SEO and harness the power of search engines to drive traffic, boost online visibility, and grow your business in Singapore. Begin your journey by signing up for an SEO certification course that best suits your needs and objectives today. For more free SEO resources, view these SEO guides:
First Page is the best SEO company in Singapore (as ranked on Clutch's list of SEO agencies), our SEO specialists have numerous years of experience working in all facets of SEO. Feel free to reach out to us if you have any questions or interesting SEO topics you wish for our team to cover.