Best Free SEO Resources And News Platforms For Marketers
In today's digital world, search engine optimisation (SEO) has become crucial to any marketing strategy. Fortunately, numerous SEO resources are available to help marketers stay abreast of the best practices and ensure their SEO efforts are always on track. From the most up-to-date news websites to platform blogs packed with the latest tips, you can find a range of helpful advice – all for free! 
SEO News Platforms
For starters, there are a variety of news websites that allow marketers to easily access timely articles about SEO. The best part is that the usage of these platforms is generally free, making them a reliable yet economical resource.
1. Search Engine Journal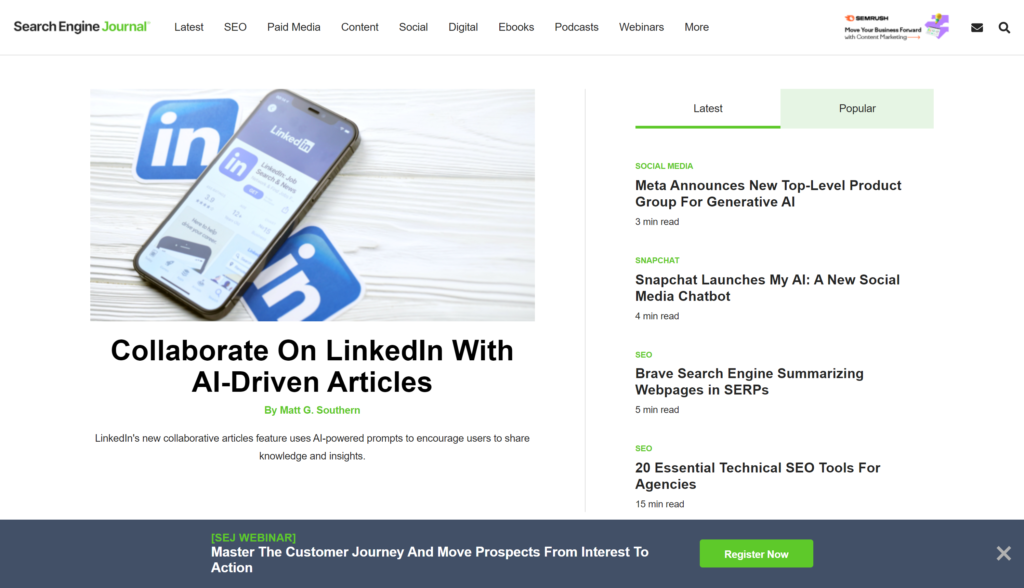 One of the most widely used SEO news websites is Search Engine Journal (SEJ). With articles published regularly, SEJ offers a unique platform for readers to learn from industry experts and stay current with SEO best practices. Readers can gain new knowledge from the most knowledgeable professionals on all aspects of SEO, including content marketing, link building, technical SEO, analytics, conversions, and much more. 
SEJ also offers webinars and podcasts on various SEO topics that you can listen to on the go. With a comprehensive selection of resources, SEJ is an essential tool for any marketer. 
2. Search Engine Land
Search Engine Land is another great website for news, tips, and tricks from the world of SEO. It provides a one-stop shop for anyone looking to expand their knowledge on optimising web pages for higher rankings in search engine results. 
Not only does it share daily updates on SEO-related strategies, but it also offers detailed analysis of any industry changes or trends as well as in-depth feature pieces from its team of writers. Their content covers a wide range of topics—in the areas of SEO, Pay-Per-Click (PPC) marketing and more—so there's always something new to learn from Search Engine Land. 
3. SEO Round Table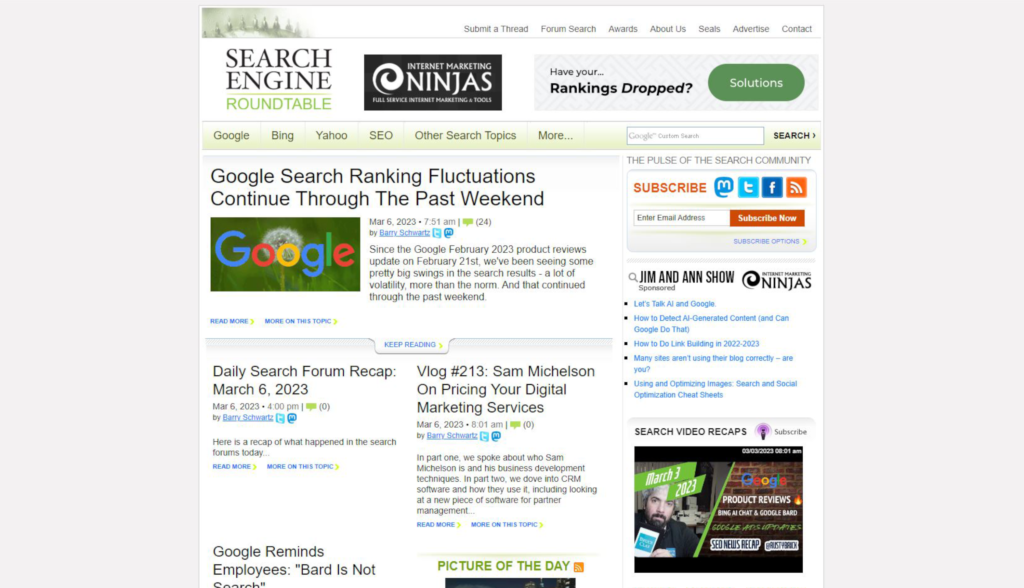 SEO Round Table is a community-driven news platform that covers the latest news and trends in the SEO industry. Their articles are written by industry experts and cover various topics, including SEO, PPC, social media, content marketing, and more. SEO Round Table also has a vibrant community of SEO experts who engage in lively discussions about the latest SEO trends and strategies.
4. Google Search Central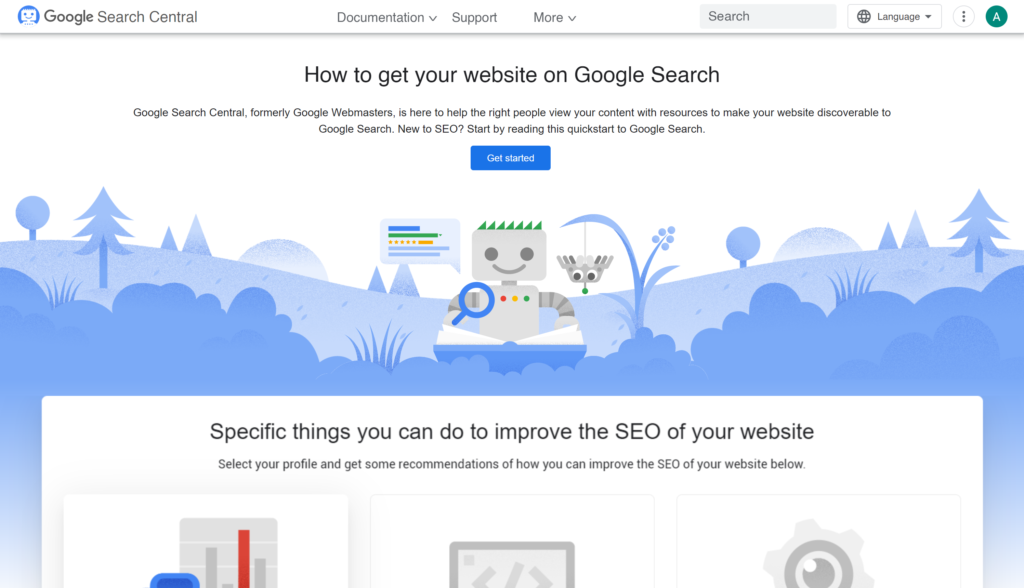 Formerly referred to as Google Webmasters, Google Search Central Blog is Google's official blog for SEO professionals and marketers alike. Featuring authoritative guidance from the search engine giant, the blog is constantly updated with rich content that dives deep into relevant topics with up-to-date tips and industry insights. 
These are written by members of the Google Search team, offering an inside view of what works best today with SEO. For any business looking to stay competitive in organic search, the Google Search Central Blog is an essential resource worth having as part of your arsenal.
SEO Platform Blogs
The following platforms offer free and reliable SEO advice, tips and tricks from professionals who are experienced in the field. Take advantage of the real-world expertise contained within these resources in order to establish a foundation of knowledge that you can then build up upon. 
1. SEMRush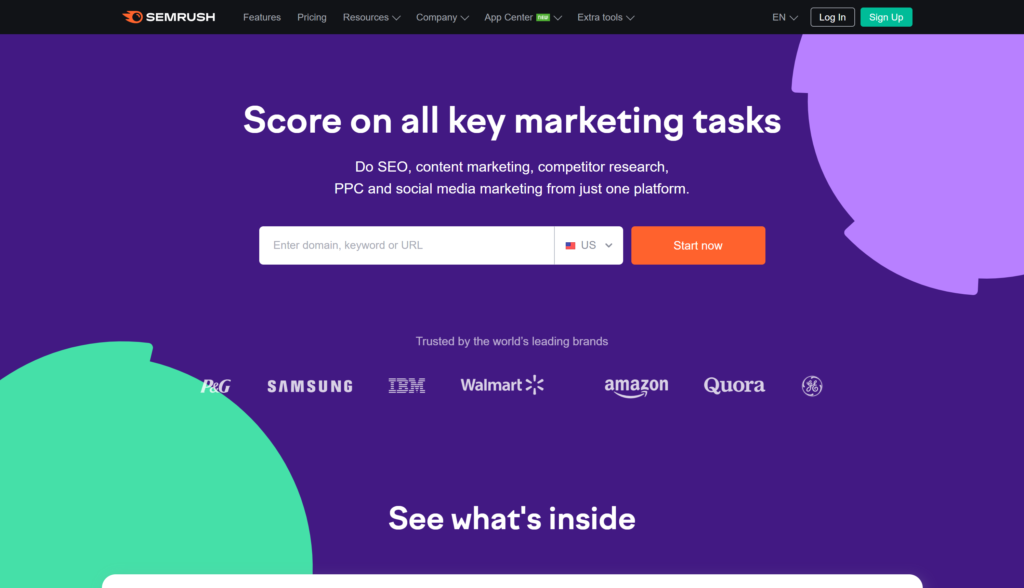 SEMRush is a popular all-in-one marketing toolkit that offers numerous features like keyword research, competitor analysis, backlink analysis, and more. SEMRush's blog section is among the best free resources for SEO enthusiasts. Their blog covers everything from SEO basics to advanced strategies and tactics, making it an excellent resource for beginners and experts. They also offer webinars and other free resources to help you learn new SEO skills and stay ahead of the competition.
2. Moz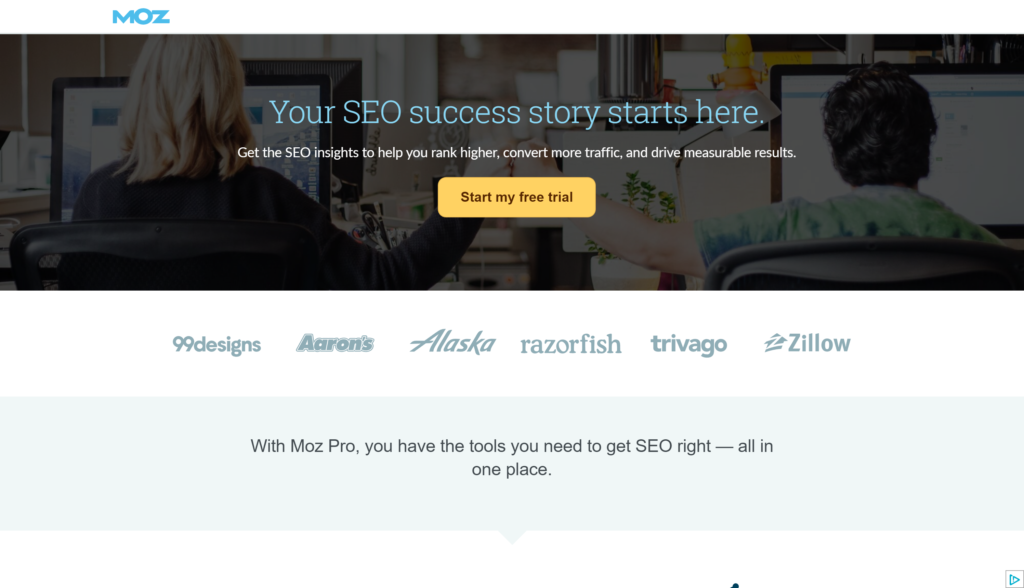 Moz is another popular SEO tool that provides various features like keyword research, site audit, link building, and more. Moz's blog section offers a vast library of content related to SEO, including tutorials, case studies, industry news, and more.
Their blog posts are written by experienced SEO professionals and cover a wide range of topics like on-page optimisation, link building, local SEO, and more. They also offer a free beginner's guide to SEO, which can help you understand the basics of SEO and get started with optimising your website.
3. Ahrefs
Ahrefs is a well-known SEO tool that provides features like backlink analysis, content analysis, and competitor research. Their blog section is an excellent resource for marketers looking to improve their SEO skills.
Their blog covers topics like keyword research, link building, content marketing, technical SEO, and more. They also offer free courses and tutorials that can help you learn new skills and stay up-to-date with the latest SEO trends. Ahrefs is sure to be a go-to bookmark for both novice digital marketers and those already well-versed in SEO principles.
4. Yoast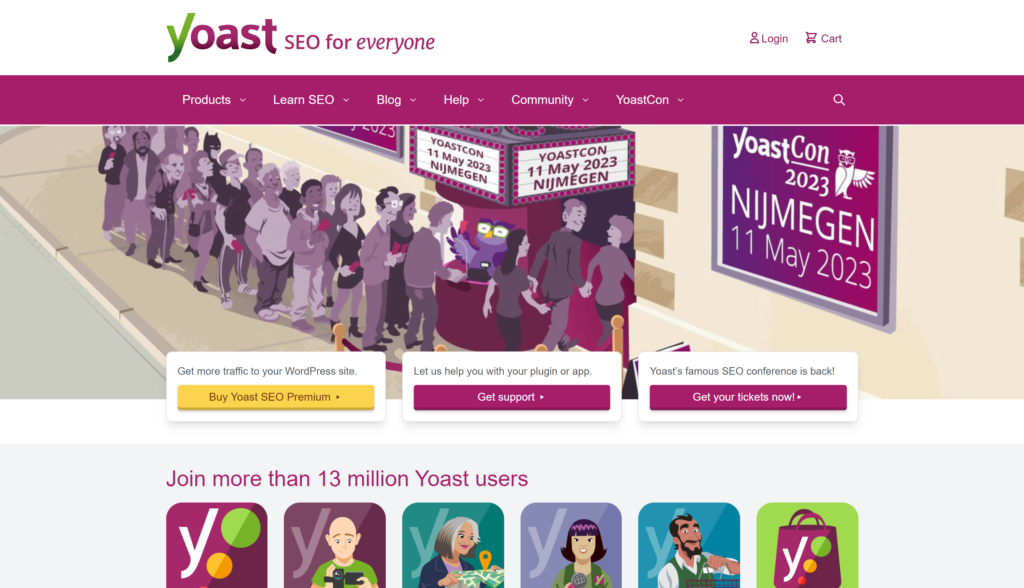 Yoast is a popular SEO plugin for WordPress that helps you optimise your website for search engines. Their blog section provides a wealth of free resources on SEO, including tutorials, case studies, and industry news. 
Yoast's carefully curated library of articles makes it easy to brush up on the basics or hone more advanced skills, while their expert guidance gives users confidence in their approach to SEO. You can also get access to free courses and webinars that can help you refine or enhance your existing strategies.
5. Backlinko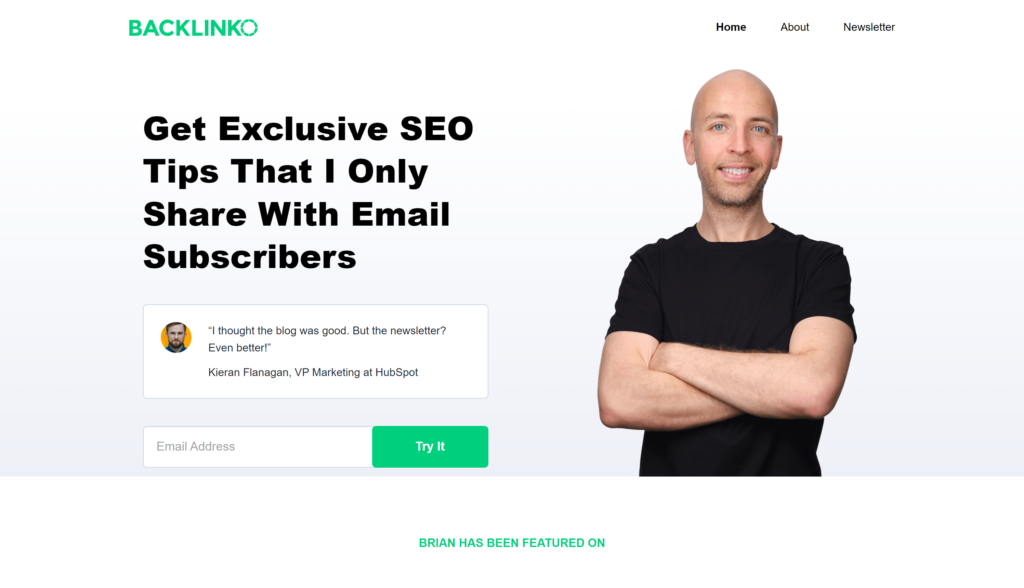 Backlinko is the brainchild of Brian Dean, a trusted and experienced SEO expert. His blog has become a vital source for marketers everywhere looking to improve their SEO skills. From practical tips on keyword optimisation to comprehensive guides on content marketing, Backlinko offers in-depth and reliable advice with every post. 
Moreover, what makes it special is the insightful stories and case studies from Brian's own experiences which help make complex concepts accessible even to rookie marketers. 
SEO KOLs
Besides the above news websites and platform blogs, another free yet reliable SEO resource that marketers can rely on are Key Opinion Leaders (KOLs). As experts in their respective niches, these SEO KOLs can provide valuable insights and guidance that can improve your search engine rankings and drive more traffic to your website.
Let's take a closer look at five of the most influential SEO KOLs in the industry today.
1. Lily Ray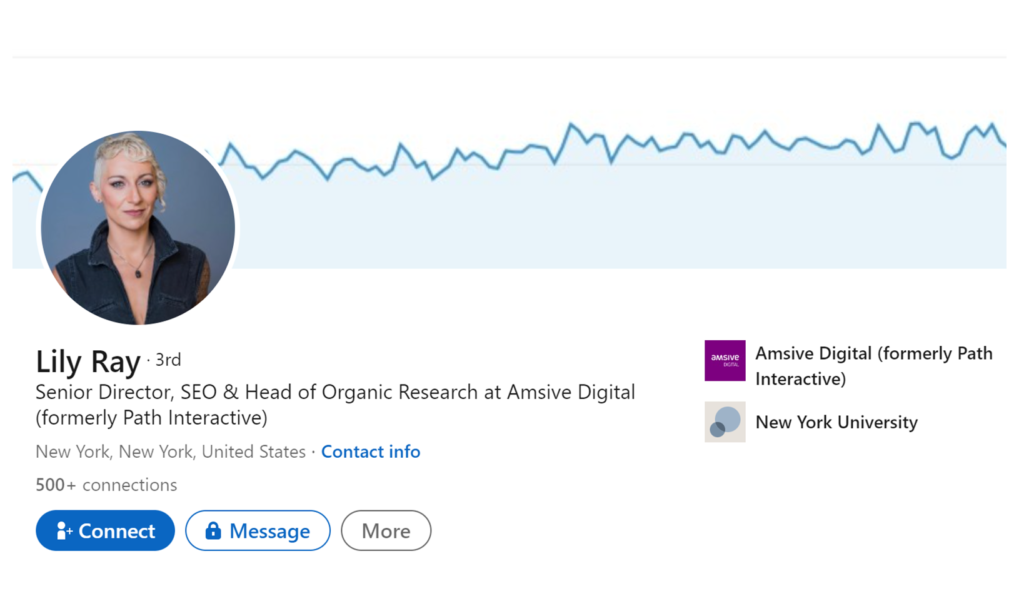 Lily Ray currently works as the Senior Director of SEO and Head of Organic Research at Amsive Digital. This SEO specialist and expert has worked with a range of industries, including retail, e-commerce, B2B, and consumer packaged goods. 
Having written for Search Engine Journal, Lily's expertise includes international SEO, local search, mobile SEO, technical SEO, and content marketing. She previously shared her thoughts on SEO in 2023 with Majestic, which is all about jumping into new formats, and making the most of what Google as well as other search engines offer. 
2. Jeff Ferguson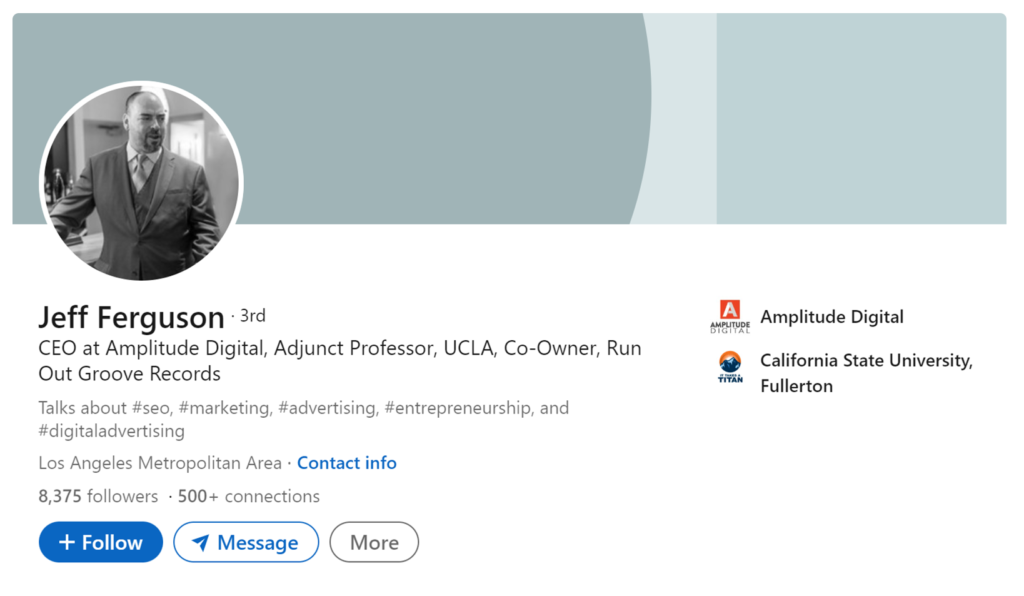 Jeff Ferguson is another distinguished SEO KOL. He plays a dual role as both a Partner at Amplitude Digital, a Los Angeles-based digital media advertising agency, and an instructor at UCLA Extension, where he teaches about advanced digital marketing and search engine optimisation.
Jeff's expertise includes SEO, PPC, content marketing, and entrepreneurism. Recently, he shared his take on SEO studies and ranking factor studies on Barry Schwartz's Vlog #209.
3. Dan Taylor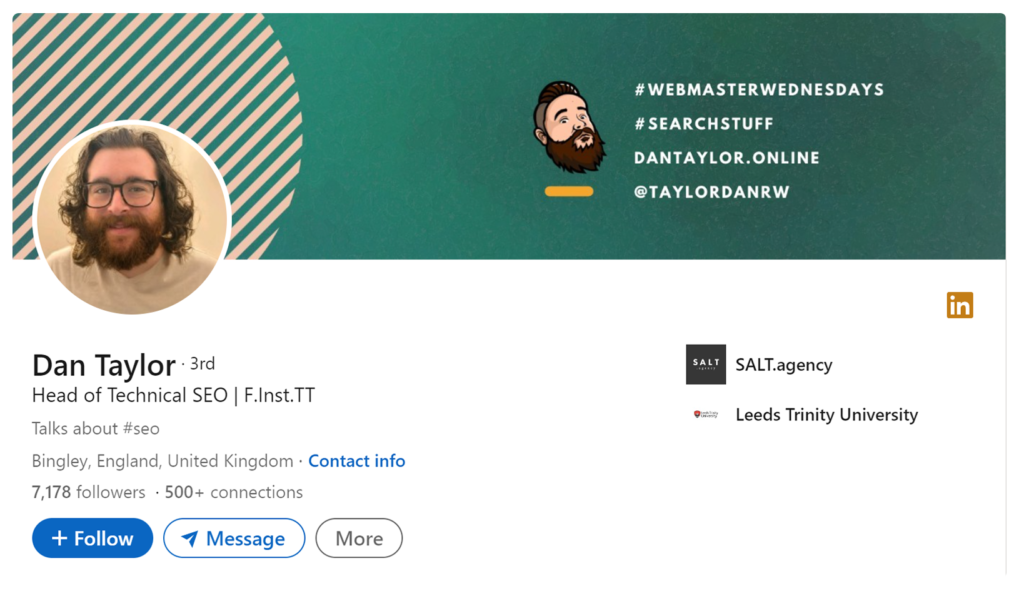 Another SEO KOL is Dan Taylor, the Head of Technical SEO at SALT.agency. Dan is a sought-after speaker in the digital marketing and SEO space, presenting at conferences across Europe and the United States. He is a thought leader in technical SEO and has been credited for coining the term "edge SEO." 
His expertise includes international SEO, local search, mobile SEO, SEO, and technical SEO.
4. Barry Schwartz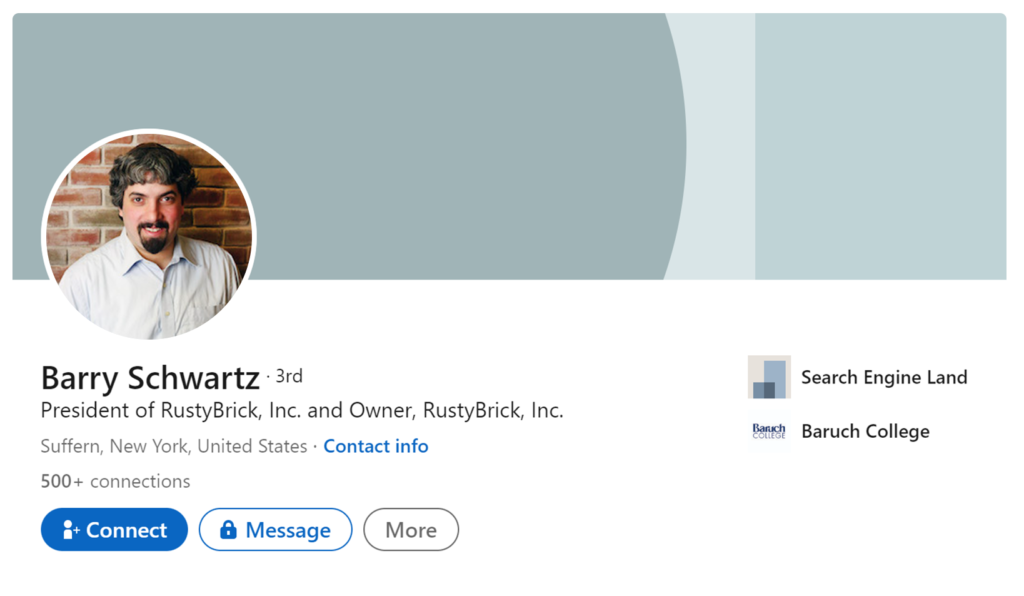 A prominent figure in the search marketing industry, Barry Schwartz serves as Contributing Editor for Search Engine Land and programming team member for SMX events. He heads RustyBrick, a NY-based web consulting firm, and also runs the popular Search Engine Round Table blog. 
You may check his articles about SEO on Search Engine Land and Search Engine Round Table.
5. Jamie Indigo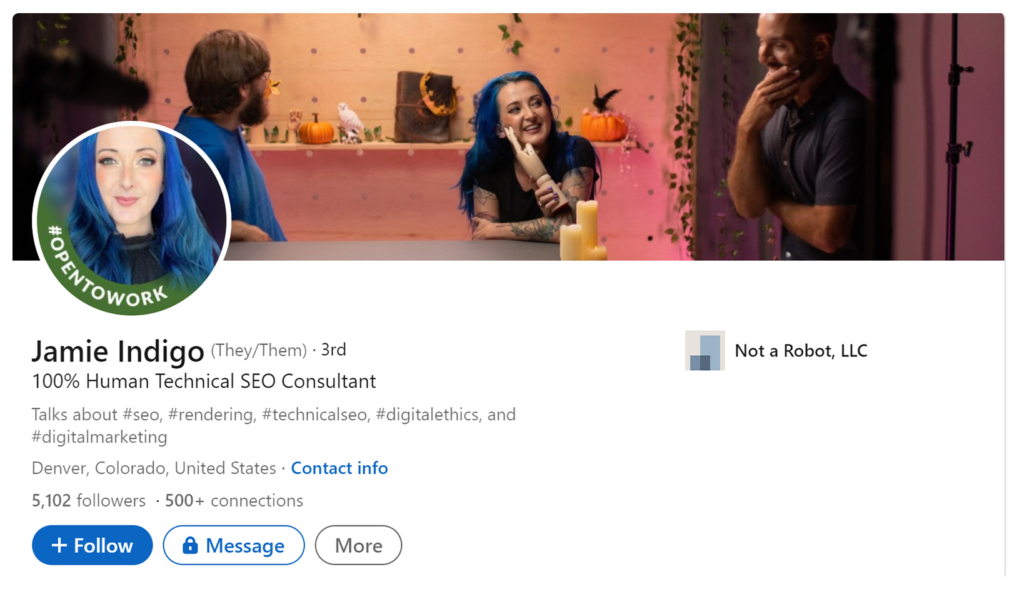 A technical SEO expert, Jamie Indigo is known for speaking at industry events such as #SMXEast, #SMXL, and #Engage. She is also previously seen at #BrightonSEO, #SearchLove, #SMXMuenchen, #SearchCon, Google Webmaster's MythBuster series, and Experts On the Wire with Dan Shure.
In her recent guesting on Majestic for SEO in 2023 with David Bain, she shared that producing fact-based content is the key for SEO to stay trustworthy.
6. Marie Haynes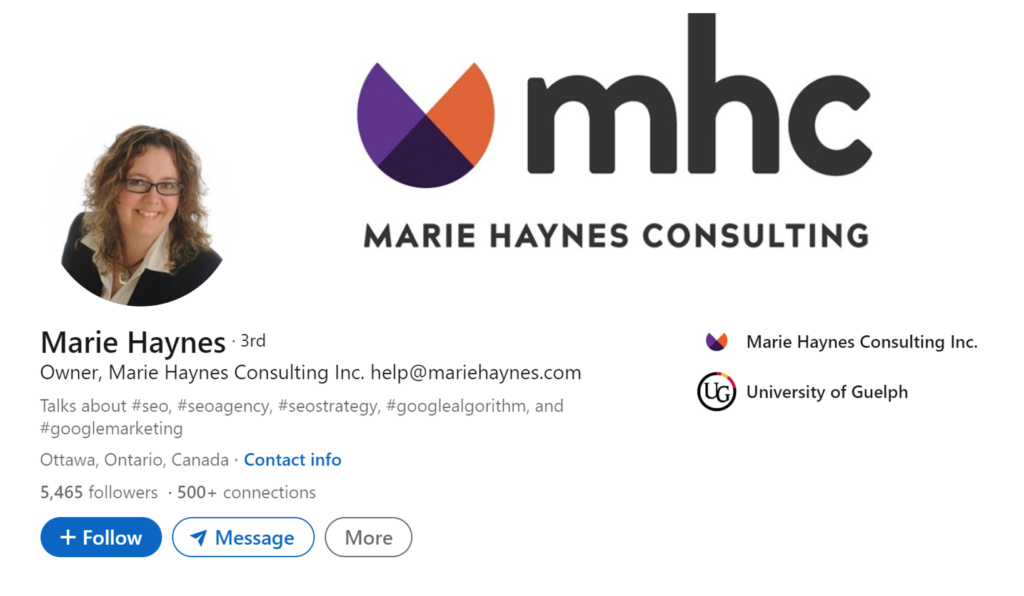 With years of experience in the digital marketing space, Dr. Marie Haynes is widely-respected for her expertise in SEO. As one of the leading practitioners in SEO today, not only is she recognised for tackling the Google Penguin algorithm, but has also determinedly built her own business – Marie Haynes Consulting – to assist other companies with their online visibility and presence on search engines. 
Additionally, she stays connected with her supporters by regularly updating them through Twitter on SEO developments and digital marketing tips. 
7. Kevin Indig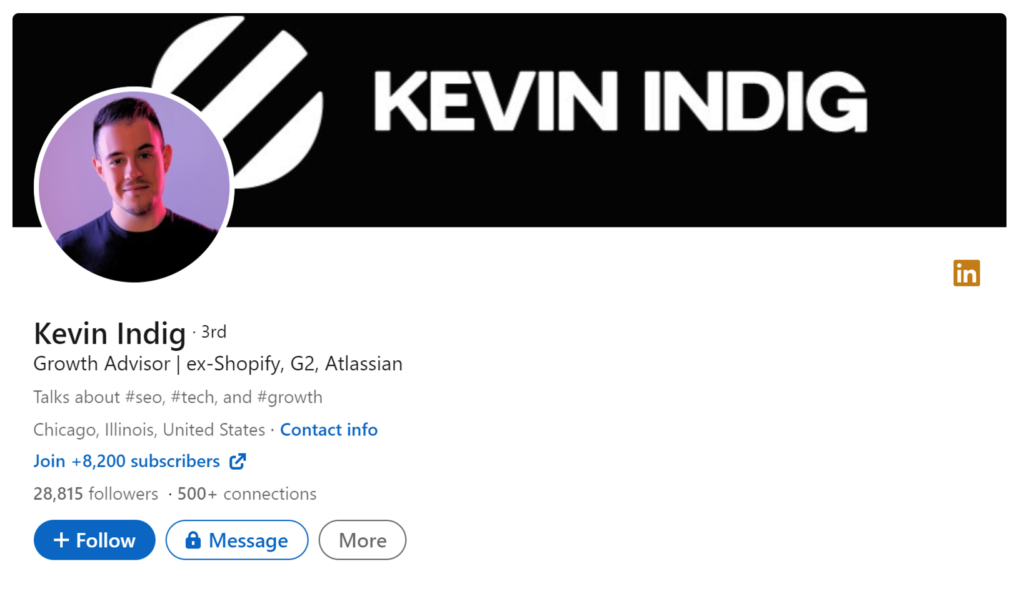 As an SEO expert, Kevin's tenure at various establishments, such as G2 Crowd, Atlassian and Dailymotion, have all helped him to explore the nooks and crannies of SEO. Currently, he serves as Director of SEO at Shopify and has created a powerful weekly newsletter called Growth Memo that offers strategies and tools for achieving success. Over 8,200 people have subscribed to read the weekly insights shared by Kevin.
8. Daniel Foley Carter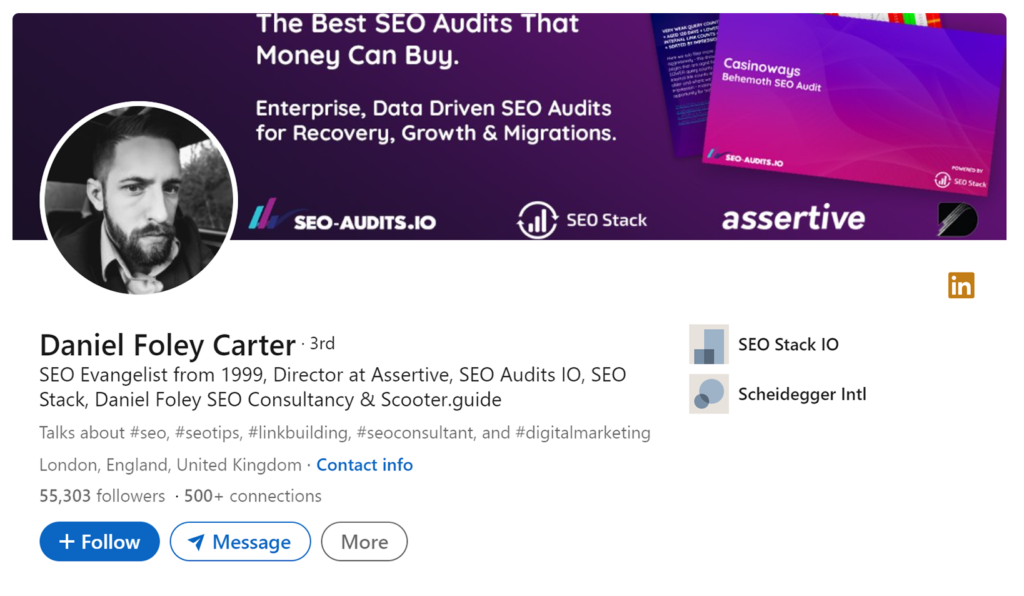 With over two decades of experience as an SEO Consultant, Daniel Foley Carter is a well-versed expert in the field. His foray into this domain began as far back as the mid-90s when he began building websites, followed by enrolling in search engine optimisation courses in 1998. Over the years, his breadth of knowledge regarding SEO has seen him work with some of the UK's most renowned firms including Big Mouth Media (LBI), Accord (Netizen Digital) and Intelligent Positioning (PI Datametrics). Finally, in 2007, Daniel established Assertive Media. 
Those looking to stay in the loop on the latest tips on SEO can turn to Daniel's LinkedIn page, where he posts on a regular basis – an invaluable resource to any marketing professional.
Google KOLs
Aside from SEO KOLs, you can also count on Google KOLs in learning what's new in the digital landscape. We recommend the following Google KOLs for marketers:
1. John Mueller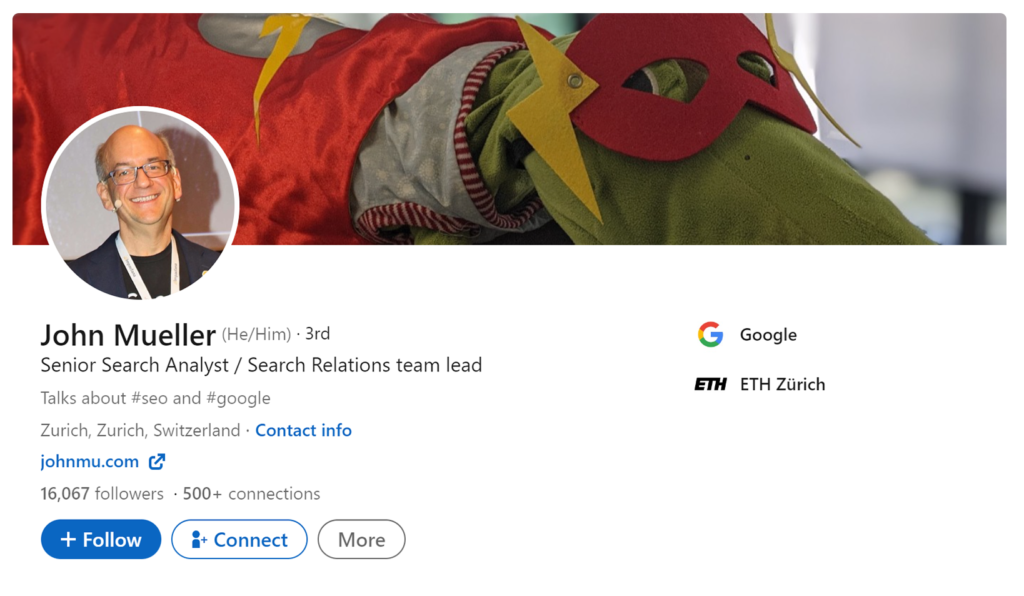 First up is John Mueller, a Webmaster Trends Analyst at Google Switzerland. Mueller is a prominent KOL known for supporting the SEO and Webmaster community as seen across multiple platforms. He shares content via Twitter, forums, blog posts and the Google Webmaster YouTube channel. 
You can search for his compilation of 57 SEO insights, a free resource that provides a great starting point for marketers who want to learn about SEO.
2. Gary Illyes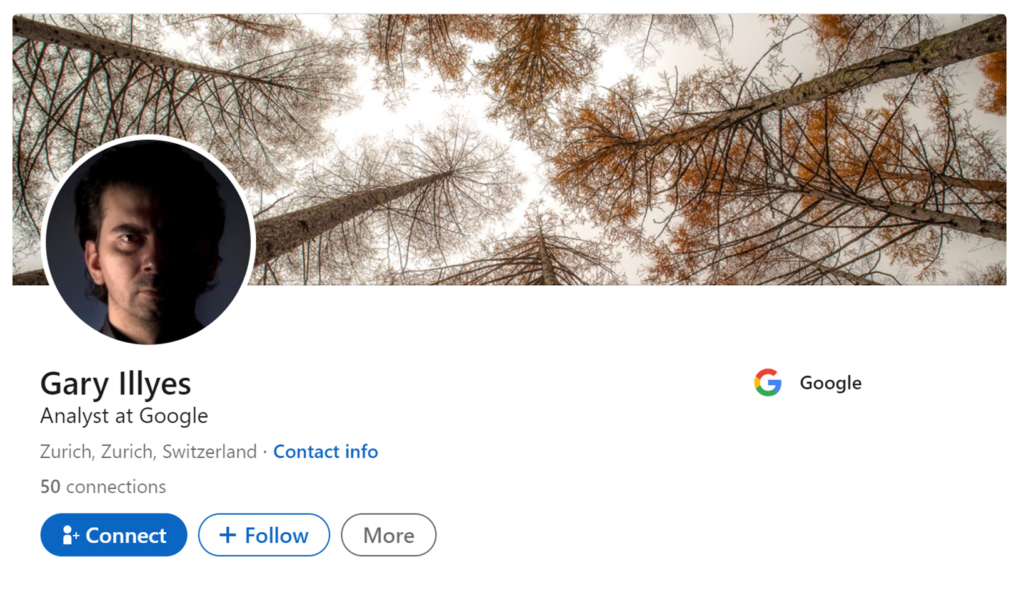 Another popular Google KOL that marketers can look for the best SEO resources is Gary Illyes. Also a webmaster trends analyst, he is passionate about creating a better search experience for users by helping webmasters build great websites. Aside from that, he is also a contributor to the Webmaster Central blog and helps users troubleshoot their websites in the Google Webmaster Forums. 
Gary recently shared helpful tips by answering DMed SEO questions through a series of LinkedIn posts. He provided insight regarding large robots.txt files, the SEO impact of website redesigns, and the correct use of rel-canonical tags.
3. Martin Splitt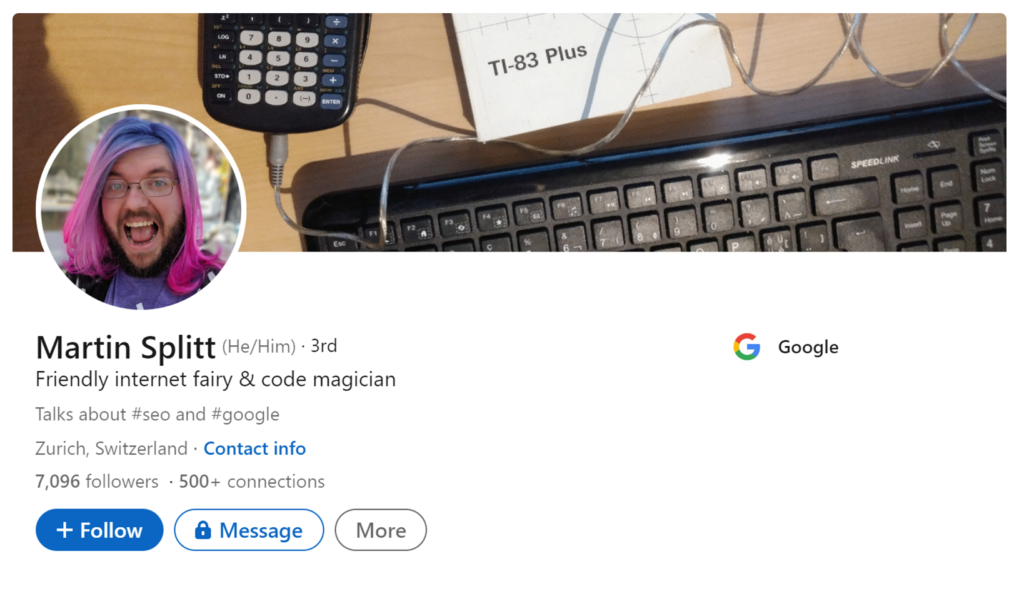 Martin Splitt is a certified Developer Advocate from the Google Search Relations team, and his extensive experience in software development for the web, Windows, Linux, and embedded devices makes him a valuable Google KOL for marketers. 
Martin became a known Google KOL for his content explaining various topics about Google. In the past, Martin has described how the search crawls and indexes on Search Engine Land. He was also able to share how Google rendering works in simple analogy. In 2019, he also explained how the search engine indexes JavaScript sites.
4. Danny Sullivan
Another Google KOL on the list is Google's Public Liaison for Search, Danny Sullivan. Danny's role is to help the public better understand Google Search and listen to public feedback on how Google can be improved. He also handles situations that Search might encounter, such as responding to DuckDuckGo's anti-privacy claims back in 2019.
Bonus: Don't Miss Out On These SEO Podcasts
Additionally, one more free resource that marketers can tap into to learn about SEO is podcasts relevant to the industry. Here are the podcasts that marketers can use:
1. Voices Of Search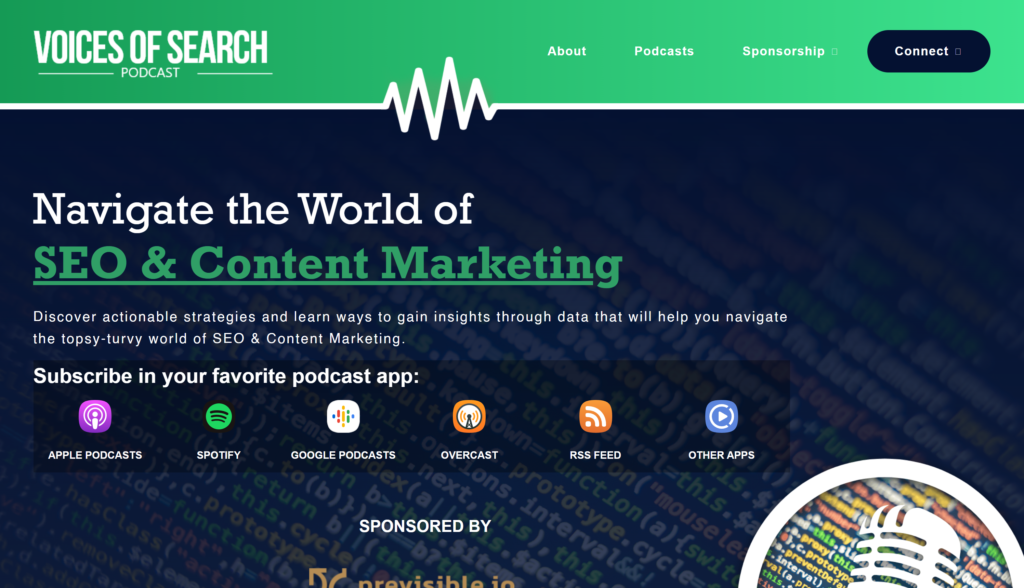 Voices of Search is a podcast that provides news, education and insight into the ever-changing world of SEO and content marketing. Here, marketers can learn actionable strategies and ways to gather insights through data that can help when it comes to SEO and content marketing. 
The host of the podcast is Benjamin Shapiro, founder of benjshap LLC. His expertise is in helping growth-stage companies learn how to identify the alignment between corporate identity and customer needs to develop an effective marketing strategy.
2. Search Engine Journal Show
The Search Engine Journal Show is another free SEO resource for marketers and SEO professionals. This podcast covers everything from SEO, PPC, social media, content marketing and digital marketing with the top experts and authorities in the industry. The hosts of this podcast are Brent Csutoras, Danny Goodwin and Loren Baker.
3. Edge of the Web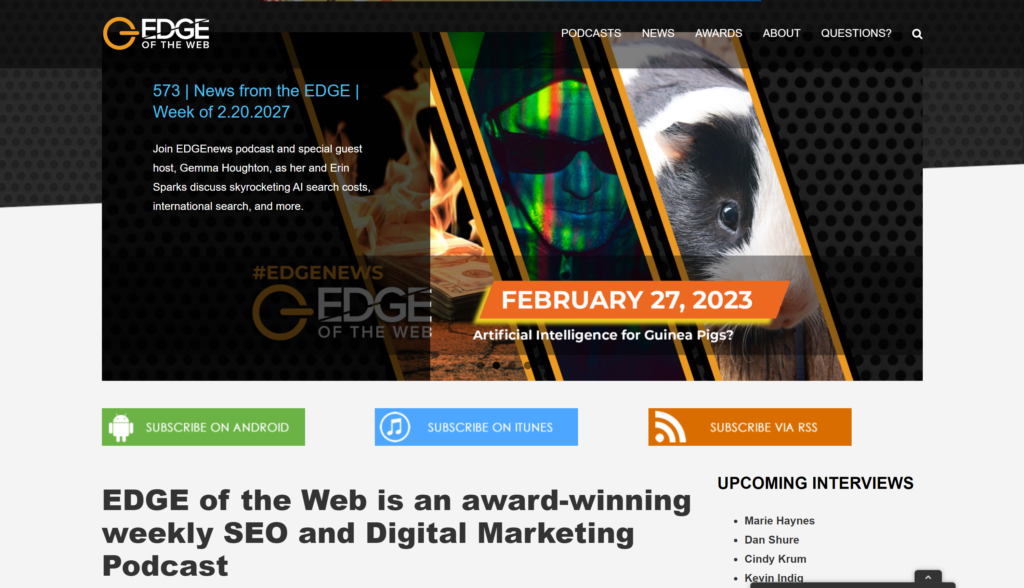 An award-winning weekly SEO and digital marketing podcast, EDGE of the Web is also among the best SEO resources that marketers can maximise for learning. This podcast is a weekly one-hour digital marketing podcast that touches on topics in digital marketing: SEO, social media, content marketing and more. 
The podcast is hosted by Erin Sparks, who talks about what's new and what's trending in the digital marketing industry. He also interviews some of the biggest names in marketing.
4. Marketing O'Clock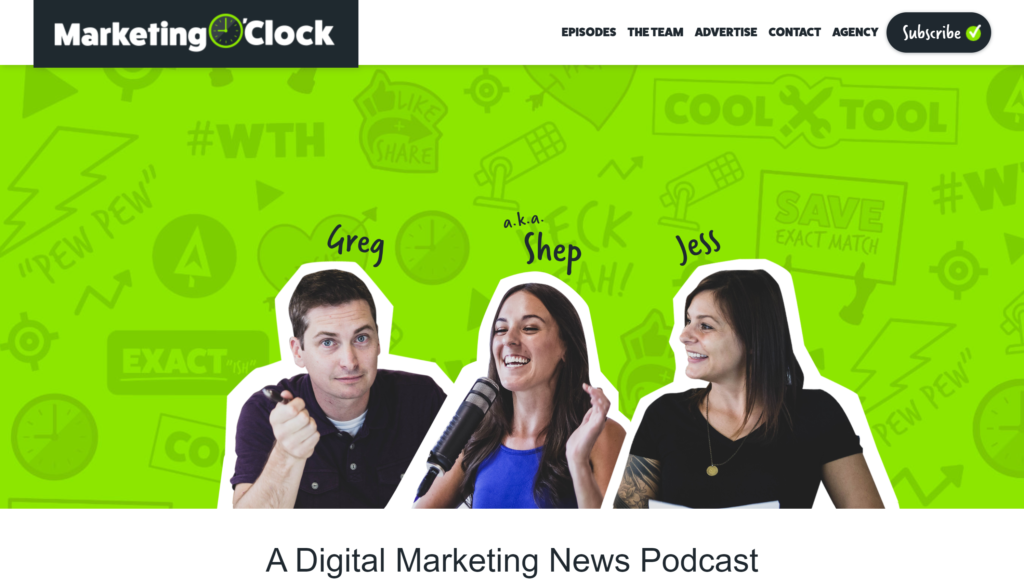 A weekly digital marketing news show, Marketing O' Clock is the next podcast marketers should check out as a free SEO resource for the latest news. 
Cypress North, a full-service digital agency based in Buffalo, New York, is the team behind the podcast. There are new episodes every week, with occasional or bonus Marketing O'Talk panels featuring digital marketing experts from different parts of the world. Check out this podcast for candid conversations with real marketers about what's new in the industry.
5. Google Search Off The Record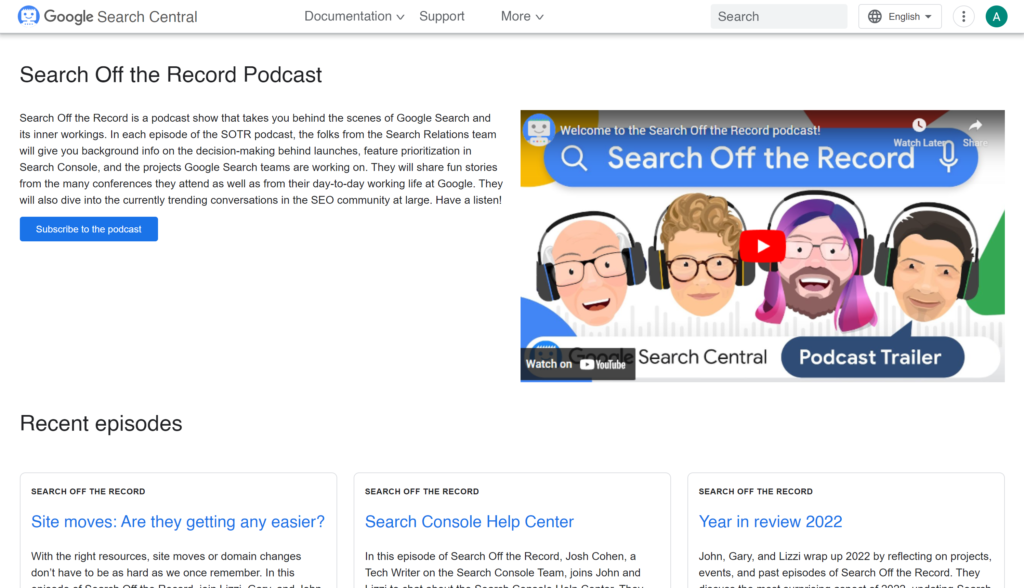 Another must-listen podcast, Search Off the Record takes listeners behind the scenes of Google Search. Each episode of the podcast is an insight into the decision-making behind launches, the prioritisation of features in Search Console and the ongoing projects of the Google Search teams. Expect fun stories about conferences the team has attended in the past and even their day-to-day lives at Google. They will also talk about the trending topics in the SEO community.
The hosts of the post include Gary Illyes – Search Advocate, Lizzi Sassman – Tech Writer, Martin Splitt – Developer Advocate, and John Mueller – Search Relations Lead.
6. Marketing Scoop Podcast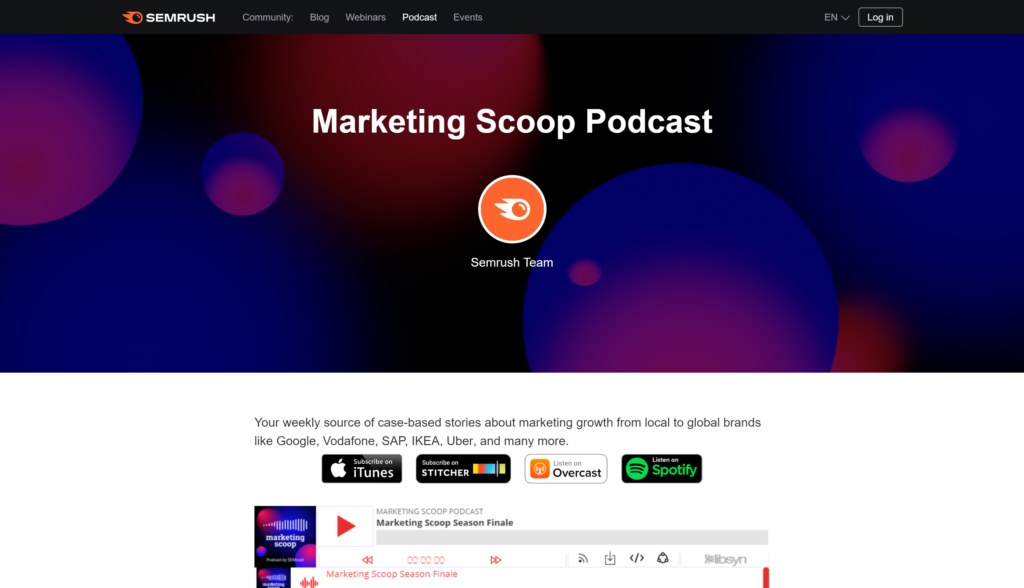 Powered by SEMrush, the Marketing Scoop podcast is a source for case-based stories about marketing growth from local to global brands like Google, Vodafone, SAP, IKEA, Uber and many more. This podcast covers topics ranging from content creation and the best SEO tools to AI and chatbots.
SEO Agency Blogs
Typically operated by SEO agencies themselves, not only do these blogs offer free tips and advice from experienced professionals, but they often feature case studies and stories of past successes that can inspire new strategies. If you're looking for a dependable resource to help drive your SEO initiatives, consider tapping into the valuable insights available through these agency blogs:
1. First Page Digital Blog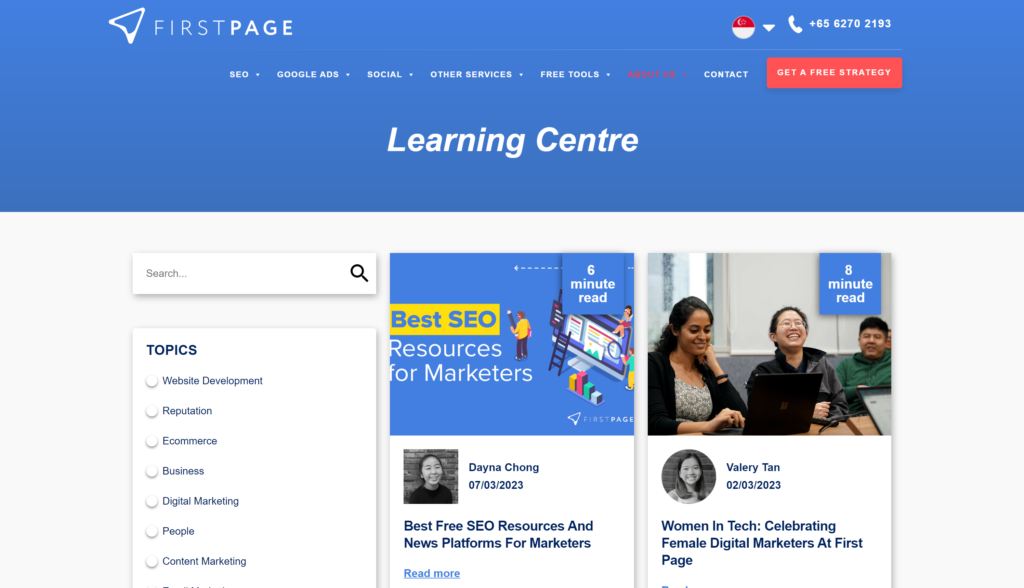 Since launching ten years ago in Singapore, Hong Kong, and Australia, First Page has solidified its presence within the digital marketing space. Their range of services encompasses local SEO, international SEO, mobile SEO and Google Ads – just to name a few.  
For marketers looking for insight into SEO trends relevant to Singapore, you can check out First Page's learning centre for informative guides.
2. Amsive Digital Blog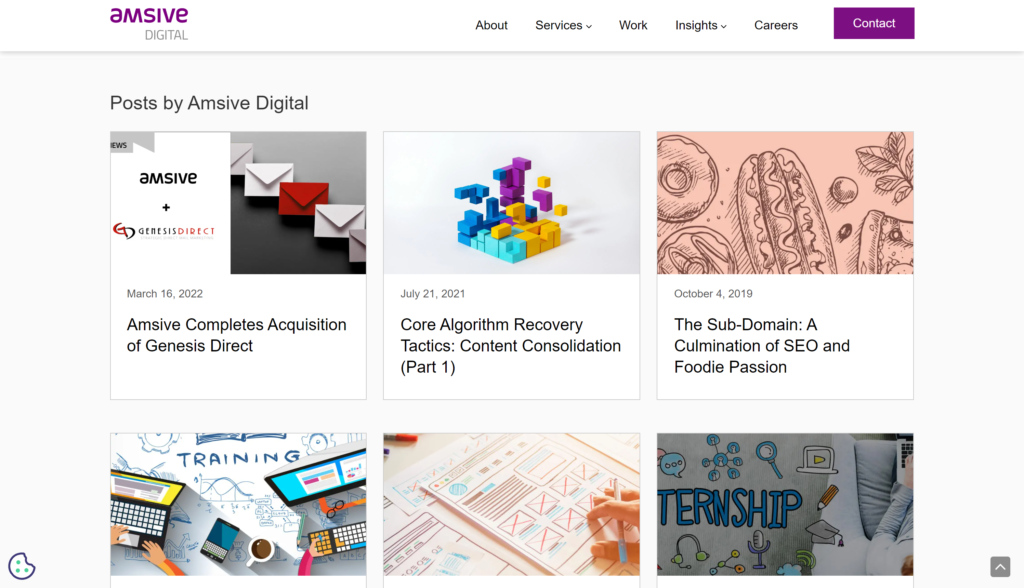 Amsive Digital is a New York City-based digital marketing agency with extensive expertise in SEO, influencer marketing, web design and more. Amsive serves a broad range of industries including consumer goods, insurance companies, financial services institutions, and healthcare providers. 
For regular updates about SEO as well as tips on how to promote your products and brand in this constantly evolving arena, be sure to read Amsive Digital's blog posts.
3. Onely Blog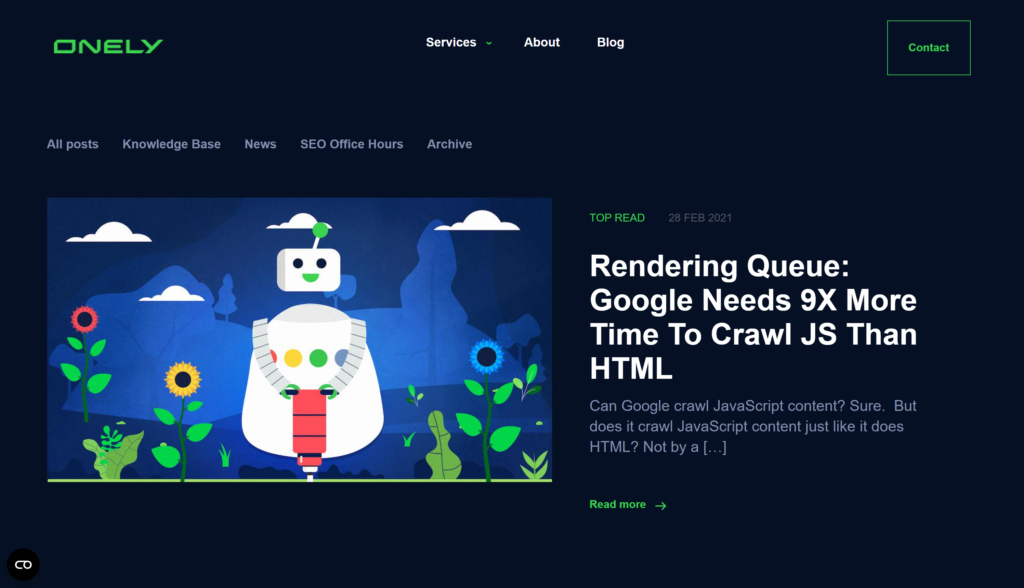 Led by Bartosz Góralewicz, the team of 30 technical experts at Onely provides comprehensive technical SEO services covering everything from JavaScript to website structure optimisation. 
You can get access to a wealth of valuable information on their blog, which delves deeper into the technical aspects of SEO. Whether you're looking for an introductory overview or advanced advice, Onely is well-positioned to provide quality and reliable content.
More SEO Tips At Your Disposal
Armed with the plethora of free SEO resources available, you can now start crafting an effective SEO strategy that not only improves website rankings but also increases visitor volume. Don't miss out on this golden opportunity to learn from the experts – using their insight and expertise is guaranteed to take your digital marketing game up a notch. 
To amplify your website's visibility faster, you can also consider working with professional SEO services in Singapore. From conducting an SEO competitor analysis to narrowing down and choosing the right SEO keywords, an SEO agency like First Page can ensure that marketing efforts generate the right kind of traffic efficiently, saving both time and effort on the part of your business. Reach out to our SEO strategists to find out more today.