Best Keyword Research Tools: Start Uncovering Hidden Gems for Increased Organic Traffic
Discover the power of keyword research in driving targeted traffic to your website and improving your search engine rankings. In this comprehensive guide, we'll dive into the best keyword research tools on the market and provide insights on their unique features and benefits. You'll also learn which tool is the most suitable for your needs, whether you're a beginner or an advanced user. Let's get started!
Why Keyword Research Matters
If you want your website to rank higher in search engine results, then keyword research is a must. Keyword research is the backbone of successful SEO strategies. It helps you understand the language your target audience uses when searching online, enabling you to create content that meets their needs and ranks higher in search engine results. By using the right keyword research tools, you can discover high-traffic, low-competition keywords to target, optimise your content, and stay ahead of your competition.
But, let's face it, manually sifting through endless lists of keywords is tedious and time-consuming. Luckily, there are several keyword research tools available that can save you time and effort while also providing you with valuable insights to support your SEO strategies
Google Keyword Planner
For starters, Google Keyword Planner is among the most effective tools for conducting keyword research. It is a part of Google Ads and is designed to help marketers find the best keywords to target in their SEO efforts. 
The main feature of Google Keyword Planner is the "Discover New Keywords" section. When using this section, you can enter either words or phrases related to either your website or business services. You will then be presented with various keyword options associated with those words or phrases that you have entered into the search box as well as their monthly search volume and competition metrics. 
This makes it easy for you to identify which keywords are most likely to drive organic traffic to your website—and which ones are too competitive or expensive for your budget. 
Google Keyword Planner Pricing
While Keyword Planner is a free tool, it is only available to users who have a Google Ads account. This means that you'll need to create an account and start a campaign to access the tool. 
Recommendation For Google Keyword Planner
Ideal for beginners and small businesses looking for a cost-effective solution for keyword research, directly connected to the world's most popular search engine.
Ahrefs
Ahrefs is a comprehensive SEO toolkit that provides users with data-driven insights into their competitors' SEO strategies. It also offers a range of powerful features designed to help marketers optimise their digital presence. One such feature is its keyword research tool, which can help you discover relevant keywords and phrases related to your chosen topic or industry. 
Using advanced algorithms, Ahrefs is able to provide detailed information about potential keywords based on a variety of factors, including search volume, competition levels, cost per click (CPC), and more. This allows you to quickly identify high-value keywords that have the potential to drive traffic and boost rankings on search engine results pages (SERPs).  
In addition to uncovering potential keyword opportunities, Ahrefs also provides valuable data about key metrics such as domain authority (DA) and page authority (PA). This data can be used to evaluate the strength of competing websites in order to determine which ones will pose the biggest threat in SERPs. Additionally, Ahrefs provides you with access to backlink analysis tools which allow you to track incoming links from other websites which can be used as part of an overall link building strategy. 
Ahrefs Pricing
Ahrefs offers four pricing tiers: Lite ($99/month), Standard ($199/month), Advanced ($399/month), and Enterprise ($999/month). If you own a website, you have the option to sign up for Ahrefs Webmaster Tools, which grants you free, limited access to both Site Explorer and Site Audit features. 
Recommendation For Ahrefs
A great choice for businesses of all sizes, particularly those looking to improve organic traffic or gain deeper insights into competitors' strategies. 
Semrush
Semrush has long been a favourite among marketers due to its comprehensive suite of features including competitor analysis, backlink tracking, and site audit tools. With this keyword research tool, you can get insights into not just your own site, but also your competitors'. The user-friendly interface provides everything you need to conduct comprehensive keyword research, including exact search volume, keyword difficulty, and related phrases.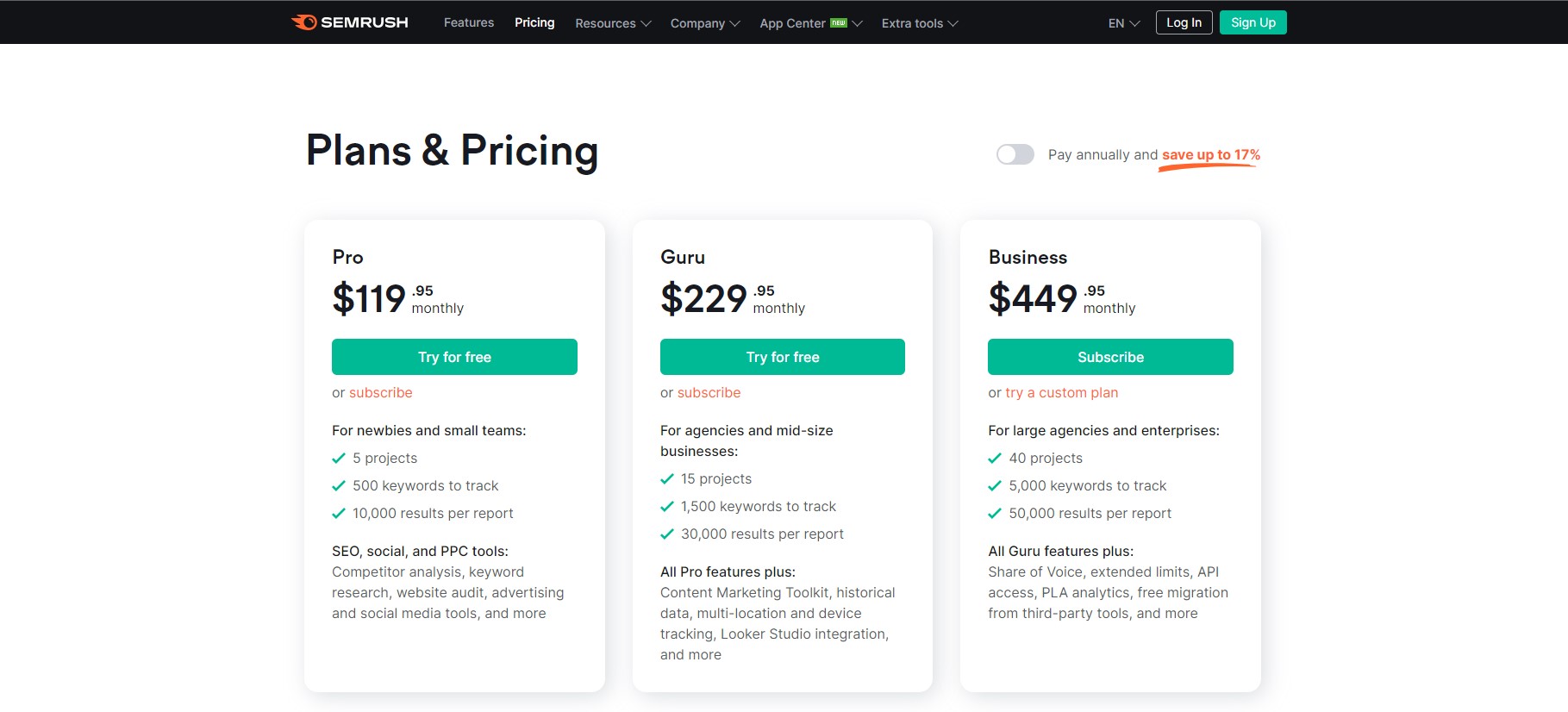 Semrush Pricing
Semrush offers three pricing plans: Pro ($119.95/month), Guru ($229.95/month), and Business ($449.95/month). Custom enterprise solutions are also available. Annual subscriptions come with a discount of up to 17%.
If you're new to SEO or on a tight budget, you can sign up for a free account and gain access to a range of Semrush tools. The daily limit for requests made to Analytics reports is capped at 10. As a free user, you can also create and manage a single project and track up to 10 keywords in Position Tracking. 
Recommendation For Semrush
Perfect for SEO professionals, digital marketers, and businesses looking for a comprehensive marketing toolkit that covers not just keyword research but also competitor analysis, site audit, rank tracking, and more.
Mangools
Mangools provides powerful features for marketers who want to dig deeper into their keyword research and find keywords with higher search volume and lower competition levels. This SEO software suite provides five helpful tools—KWFinder, SERPChecker, SERPWatcher, LinkMiner, and SiteProfiler—that can help you uncover hidden gems and get the most out of your keyword research. 
KWFinder, for example, can help you find long tail keywords with low SEO difficulty. It also gives you insight into how competitive those keywords are so you can prioritise which ones should be used in your content. Through KWFinder, you can also access information such as keyword difficulty, search volume trends, and related keywords so you can create effective keyword strategies for your website.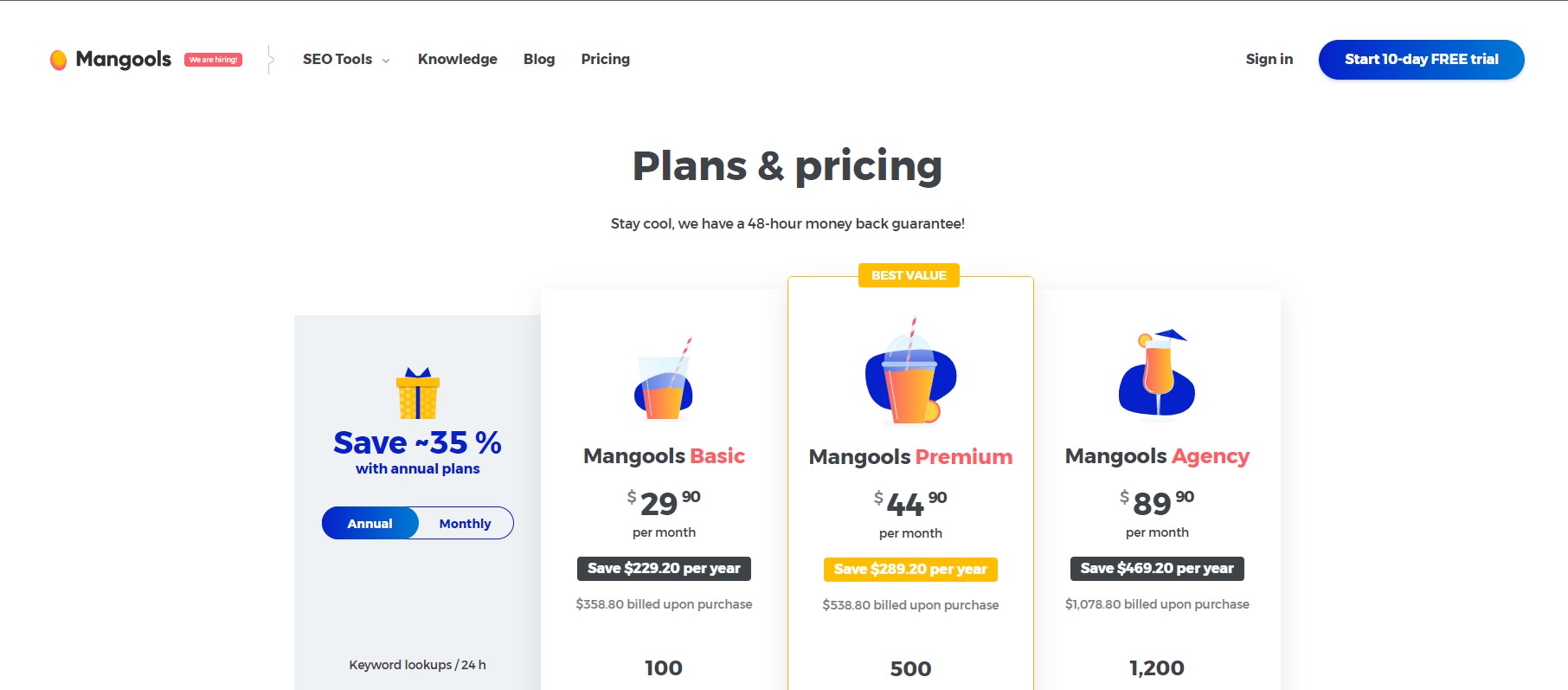 Mangools Pricing
Mangools provides three pricing plans: Basic ($29.90/month), Premium ($44.90/month), and Agency ($89.90/month). Annual subscriptions offer discounts of up to 35%. And if you're still not sure which plan to choose, you can always sign up for a 10-day free trial and try out the platform before committing. 
Recommendation For Mangools
An excellent choice for small businesses or individual marketers who don't have big budgets for keyword research tools but still need reliable data for their campaigns. 
Ubersuggest
Ubersuggest is a comprehensive keyword research tool that offers a wide range of features. It was developed by Neil Patel, a well-known digital marketer. Through Ubersuggest, you can discover profitable keywords your competitors are using and get valuable insights into different types of search terms. The tool also provides data on monthly search volume and top-ranking pages for each keyword so that you can get an idea of what type of content resonates best with your target audience. 
To begin, all you have to do is enter a keyword into the search box and hit "Search." You'll be presented with a list of related keywords that you can then filter based on difficulty, estimated traffic, and more. You can also click on any particular keyword to see more detailed data about it, such as its monthly search volume, trends over time, and related content ideas. This data can help inform your SEO strategy by letting you know which keywords will be most effective for targeting your desired audience. 
Ubersuggest Pricing
One of the best things about Ubersuggest is that it is available for free – with limited features. To access more data, paid plans start at an affordable price of $29 per month. 
Recommendation For Ubersuggest
Suitable for beginners or those on a tight budget looking for a solid, user-friendly keyword research tool with insights from an industry expert.
Botify
Botify is a cloud-based keyword research platform that concentrates on Analytics, Intelligence, and Activation. RealKeywords, a component of the Botify Analytics suite, is an innovative tool for conducting keyword research and monitoring rankings. It relies on actual queries, impressions, position and clicks to generate insights. One of the key features of RealKeywords is its ability to connect real user queries from the Google Search Console API with advanced technical SEO analysis, making it a unique and valuable solution.
Beyond identifying popular keywords, you can also leverage Botify Analytics to analyse your website structure for SEO, detect and resolve indexing problems, and perform various other tasks.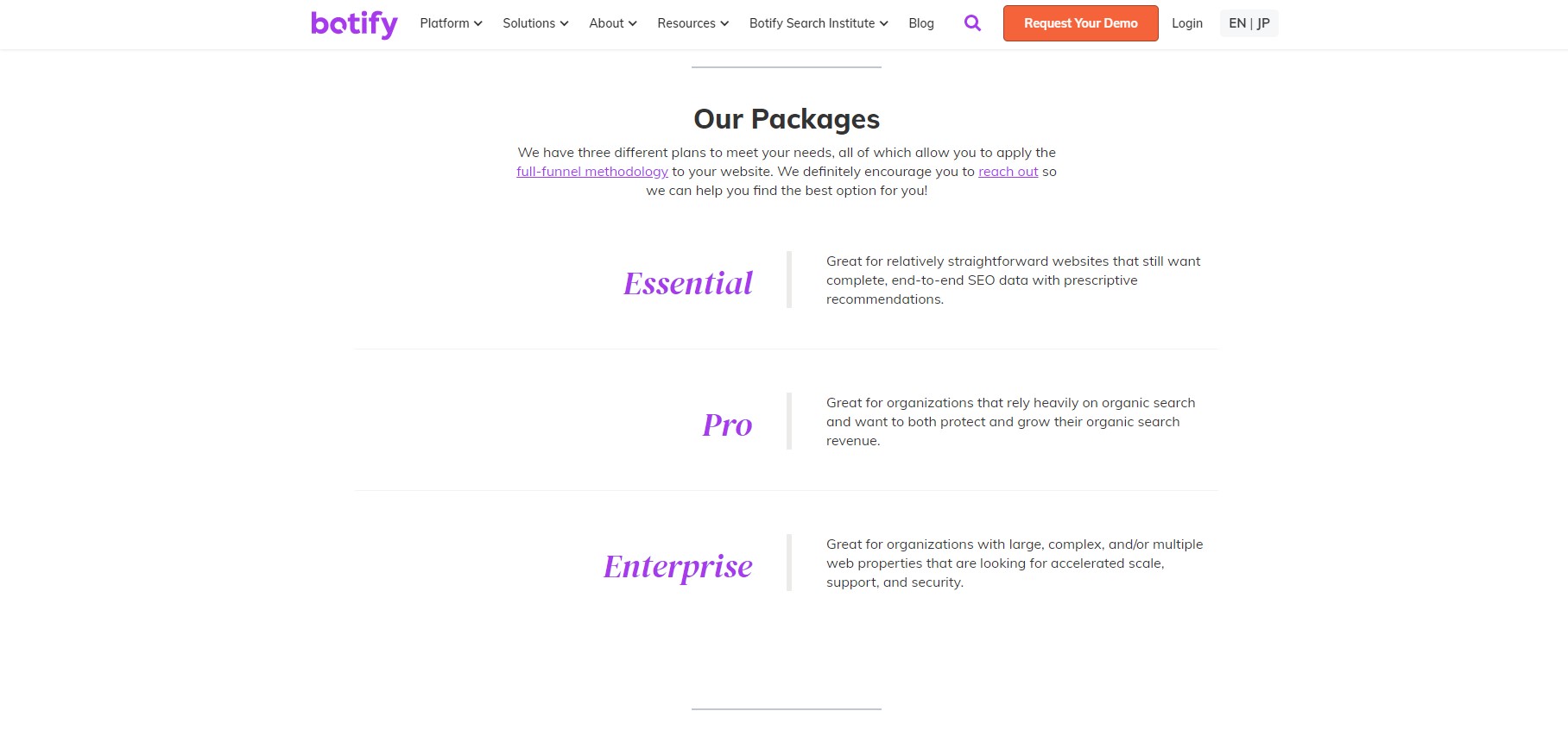 Botify Pricing
Botify is a paid tool, with plans ranging from Essential to Enterprise. It is suitable for businesses who want to get ahead in the SEO game. Its keyword research capabilities give you the insights you need to make informed decisions about which keywords will be most advantageous for their campaigns while its reporting features provide you with data you can use to measure progress over time.
Recommendation for Botify
Ideal for businesses that want a comprehensive keyword research tool with unique features and integration with the Google Search Console API.
seoClarity
seoClarity is a comprehensive SEO platform that offers marketers advanced tools for improving their website's SEO performance. The platform contains over 30 billion keywords, spanning across 170+ countries, and increases its dataset by 1+ billion keywords every month. seoClarity's keyword research tool uncovers hidden keyword variations and categories that Google doesn't provide, utilising billions of searches to reveal the latest search demand. 
The platform's keyword tools also incorporate Google Keyword Planner and Google Suggest quality, providing high-quality keywords for you to use. 
seoClarity Pricing
seoClarity is a paid tool, with pricing starting at $3,000 per month. Its core and professional plan also gives you access to a dedicated client success manager and technical service support. 
Recommendation for seoClarity
Ideal for large businesses and enterprise-level SEO campaigns that require a comprehensive SEO platform and extensive keyword database.
Unlock Your SEO Potential
In a nutshell, free keyword research tools are an excellent starting point for SEO beginners, offering essential features like keyword suggestions, search volume, and competition analysis. 
For more advanced users, entry and intermediate-level tools provide more in-depth analysis of keyword difficulty, content gaps, and other critical metrics. Large businesses and agencies with more extensive SEO needs can benefit from enterprise-level keyword research software. SEO agencies like First Page have the expertise and access to many of these keyword research tools, allowing them to provide customised SEO strategies to all-sized clients. Whether you are exploring free SEO keyword research software yourself or leaving it to an SEO agency, rest assured that you are on the right track to maximising your online visibility and ultimately, your business success.
Looking for more SEO resources? Discover our related SEO guides:
From Traffic To Sales: What Are SEO Keywords?
Maximising Search Visibility With Long Tail Keywords
Best Free SEO Resources And News Platforms For Marketers