Disney Plus is Killing it with Their Digital Marketing Strategy: Here's Why
The highly anticipated streaming service, Disney Plus, has officially landed and hit the ground running in Singapore. This means that subscribers in the city can now get access to a canon of exclusive Disney Plus original content and specials across six content brands, namely – Disney, Pixar, Marvel, Star Wars, National Geographic and Star. A whole new world of entertainment, indeed. And believe it or not, Singapore is the first market globally to unveil Disney Plus with all six content brands upon launch.

For Disney fans of every sort – be it Star Wars lovers or Marvel junkies – this is truly a dream come true! 
Now before you hop right into a series marathon, I'd like to point you towards the heated debates that have been whipping up a real storm on the internet – particularly ones that encircle the intense competition between the two streaming giants: Disney Plus and Netflix. 
Barely a few months with Disney Plus in the game, Netflix has been reported to suffer a major loss in subscribers worldwide, facing its steepest challenge – ever. The question of whether the latest entrant would pose a looming threat to Netflix has never been more pressing. At the same time, folks are gradually prying into Disney Plus' secrets to success.
Looking from a marketer's perspective, I reckon their 360-degree marketing strategy has played a vital role in setting the stage. 
The Recipe for Success
Disney has always been at the forefront of the omnichannel revolution. This time around, they, too, seek to get omnichannel marketing right – down to the smallest details. 
Throwing out the marketing playbook, the president for content and marketing at Disney Plus, Ricky Strauss, has described their launch as "a synergy campaign of a magnitude that is unprecedented in the history of the Walt Disney Company." Wow – that's quite a bold statement to make, don't you agree?
Now, let's take a look at how Disney Plus moves its chess pieces strategically, turning the spotlight to its robust marketing campaign.
 1. Maximising Its Presence
"Launch big" and "launch hot", they said.
In today's era, where digital marketing has become more crucial than ever before, offline marketing tends to take the backseat. But look, Disney Plus' campaign is a testament that offline marketing is still relevant.
Knowing that there were a lot of hype and curiosity around Disney Plus, the company has leveraged all platforms – ranging from TV and Radio to Out-of-Home (OOH) and digital – to cover every angle of each story.

The marketing onslaught in Singapore started in December, where the company taps into primetime TV shows and Radio channels like 987 FM to tease its audience. 
In the pursuit of catching more eyeballs, Disney Plus has also taken over multiple prominent OOH ad spaces across the nation. These include billboards by the expressways, walls outside ION Retail Gateway and Mass Rapid Transit (MRT) stations, bus shelter marquees as well as digital screen wraps.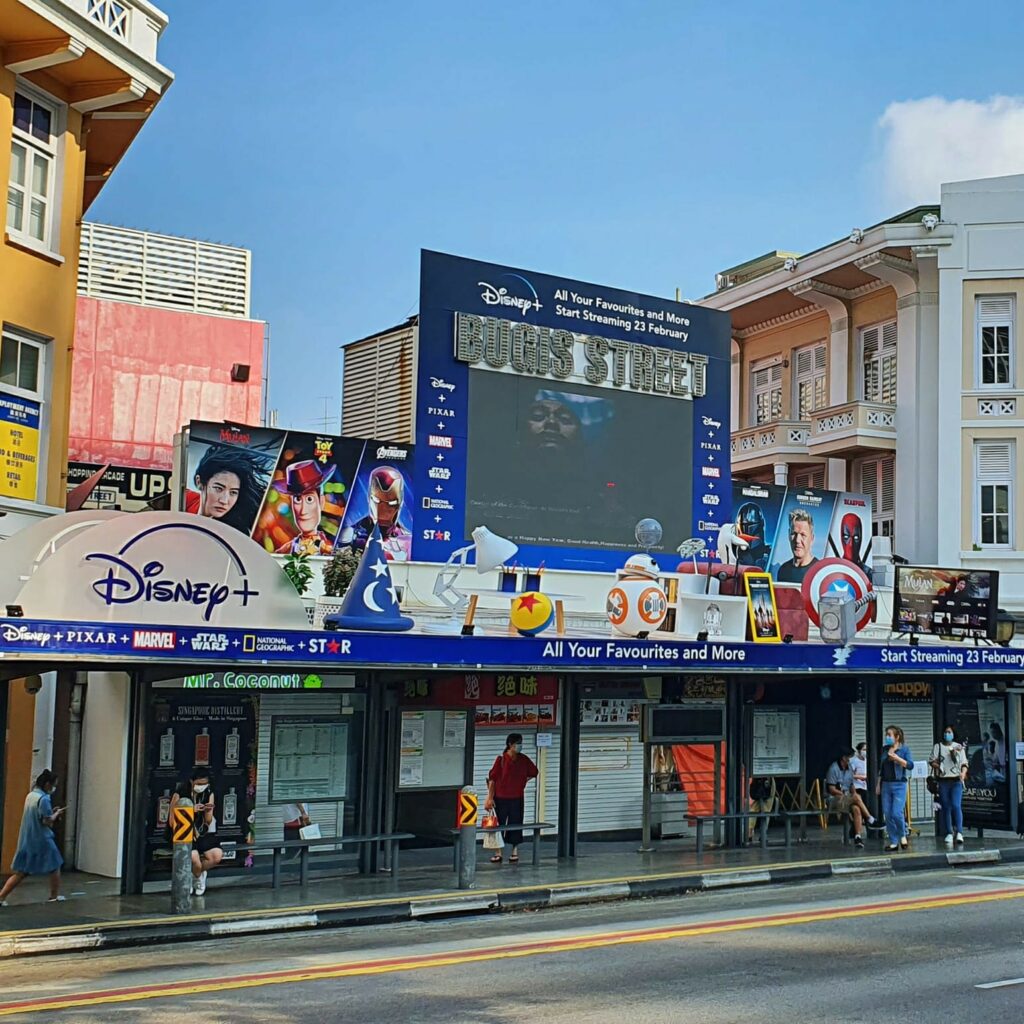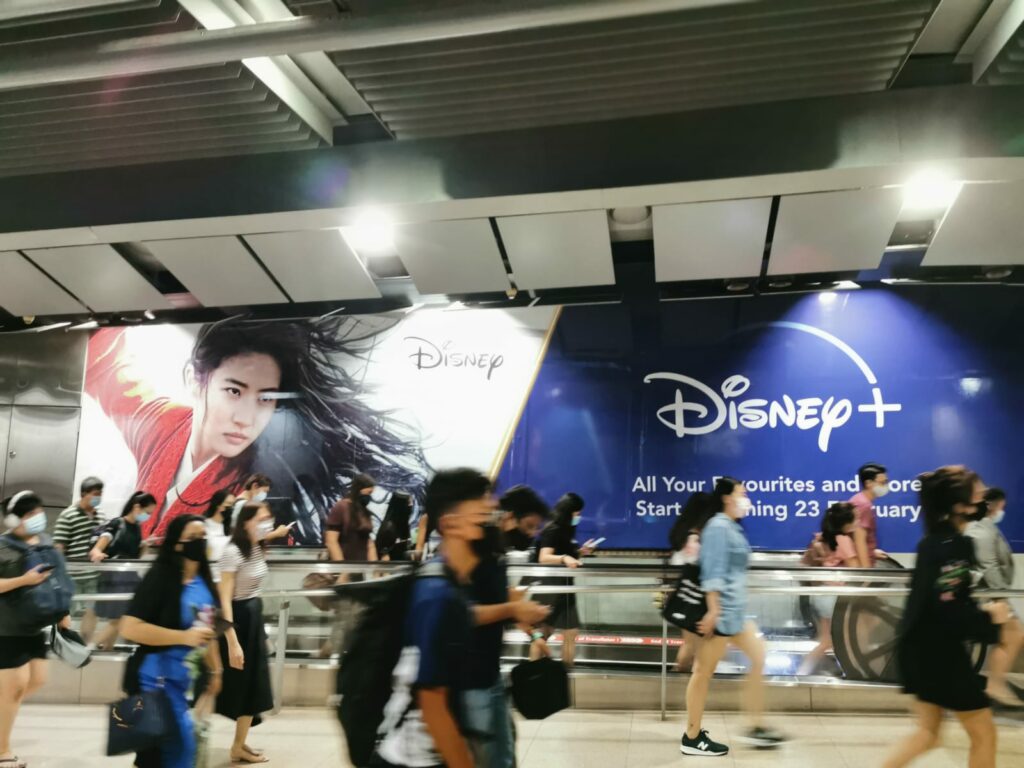 Of course, all these are complemented with unmatched digital efforts – digital takeovers by influencers on platforms like YouTube and TikTok, social media ads, and the list goes on.
2. Thinking the Unthinkable
Is that all? Surprise, surprise – Disney Plus has got more to impress. Following its official launch on 23rd February 2021, Disney Plus 'takes you wonder by wonder' on the largest projection mapping show in Singapore to date. Titled "A Night of Disney+", viewers were treated to a series of digital musical performances by homegrown musicians JJ Lin, Nathan Hartono, Benjamin Kheng and Annette Lee. 
Living up to its reputation of being the master of nostalgia, Disney Plus ended the night with a 10-minute long light projection show, where iconic Disney, Pixar, Marvel, Star Wars, National Geographic and Star characters said to be larger-than-life were beamed onto the façade of iconic landmark architectures. 
The result? Countless media coverages generated. 
3. Demonstrating the Power of Personalisation
When it comes to personalisation, Disney Plus is in a league of its own. Unlike any other, the media conglomerate has drilled its focus on a specific segment of the audience. That is – YOU. 
Within or beyond the platform, Disney Plus focuses on giving you just what you want, with each move driven by big data collected from your personal activity and interaction with the brand.
Amit Malhotra, the regional lead for Disney Plus SEA, also points out that their campaign isn't set in stone. In fact, it's constantly on 'live' mode, enabling them to ramp up their personalisation efforts and pivot based on the feedback identified through social listening. 
Biggest Marketing Takeaways
Having discussed all that, it seems like Disney Plus has left us with a few pointers on how to do marketing right. While we certainly cannot replicate Disney Plus' trove of great classics, what we can do is to adapt and reimagine its approach. 
Here's what I can personally conclude:
Always make the best of your marketing resources, and do so strategically so that they complement each other. 
Content that resonates is king. 
Success depends greatly on consumer obsession. You need to know your consumers better than they do. 
Modern marketing is all about user-generated conversations, and it drives more value than a like and a share. 
In a world filled with noise, storytelling always wins.
Disney Plus vs Netflix: The Streaming War is Getting Serious
Look, I love seeing a good, climactic battle between the streaming giants. I'm sure it's the same for you! 

Disney Plus has indisputably kicked off a season of epic showdowns, giving Netflix chills and goosebumps with its killer marketing plan. Whatsmore, they are just getting started. 
But of course, with Netflix continuously reinventing its marketing model, it's not going to be a doom and gloom for them either.
This leaves me wondering: which squad will take the throne?