Egg-cellent Easter Marketing Ideas To Boost Your Campaign
Get your business hopping this Easter season! It's the perfect time to tap into the holiday spirit and launch your marketing campaigns in full swing. As a business owner, you have an incredible opportunity this holiday to leverage festive consumer excitement while giving existing customers new reasons to engage with your business–all at once!
One of the best ways to get started with Easter marketing is to look at successful campaigns from past years. You can gain valuable insights from successful campaigns and even learn what didn't work in the past.
To help you make your mark this Easter 2023, learn from our four Easter marketing tips which include examples of exciting and clever Easter campaigns.
Easter Marketing Idea #1: Use Easter Colours And Symbols
When it comes to Easter marketing, using seasonal colours and symbols is an effective way to catch shoppers' attention, such as Easter eggs and egg hunts. Cadbury, Walkers Sensation, and Aldi launched their own versions of Easter eggs, showing the potential of using seasonal symbols in Easter campaigns.
Cadbury sets an excellent example in using their Cadbury Creme Egg as the centre of its "How do you NOT eat yours" Easter egg hunt campaign in 2022. The brand launched limited edition half-white and half-milk chocolate creme eggs worth up to £10k for those who found and resisted the temptation of eating them.
Similarly, Aldi also came up with two alcohol-infused Easter eggs in 2020. The eggs, one which is yellow in colour and infused with Gin and Tonic, and the second which is plum in colour infused with Prosecco, were an adult-oriented take on the traditional Easter egg. Take note of the colours of the Easter eggs that align with the season's colours too.
Incorporating seasonal colours and symbols into your Easter marketing campaign can effectively capture the consumers' attention and generate interest in your brand. By looking at successful examples like Cadbury and Aldi, you can gain ideas for your Easter campaigns and boost your sales this season.
Easter Marketing Idea #2: Host Special Easter Promotions And Events
If you want to nail your Easter campaign this 2023, consider hosting fun activities and promotions such as special deals, discounts, and egg hunts. Doing this can help attract customers to your business this Easter 2023.
Cadbury did exactly that in their "How Do You Not Eat Yours" Easter campaign in 2022. As mentioned earlier, the campaign includes an Easter promotion that involves winning up to £10k for those who found and resisted eating the limited edition half-white and half-milk chocolate creme eggs. The campaign also released two short films depicting a lucky customer trying to control himself from eating the limited-edition winning easter egg chocolates, teasing the viewers into wondering whether he could control himself.
What could make an Easter marketing campaign more fun and engaging than hosting special seasonal promotions and events like Cadbury did?
Easter Marketing Idea #3: Plan An Engaging Easter Social Media Campaign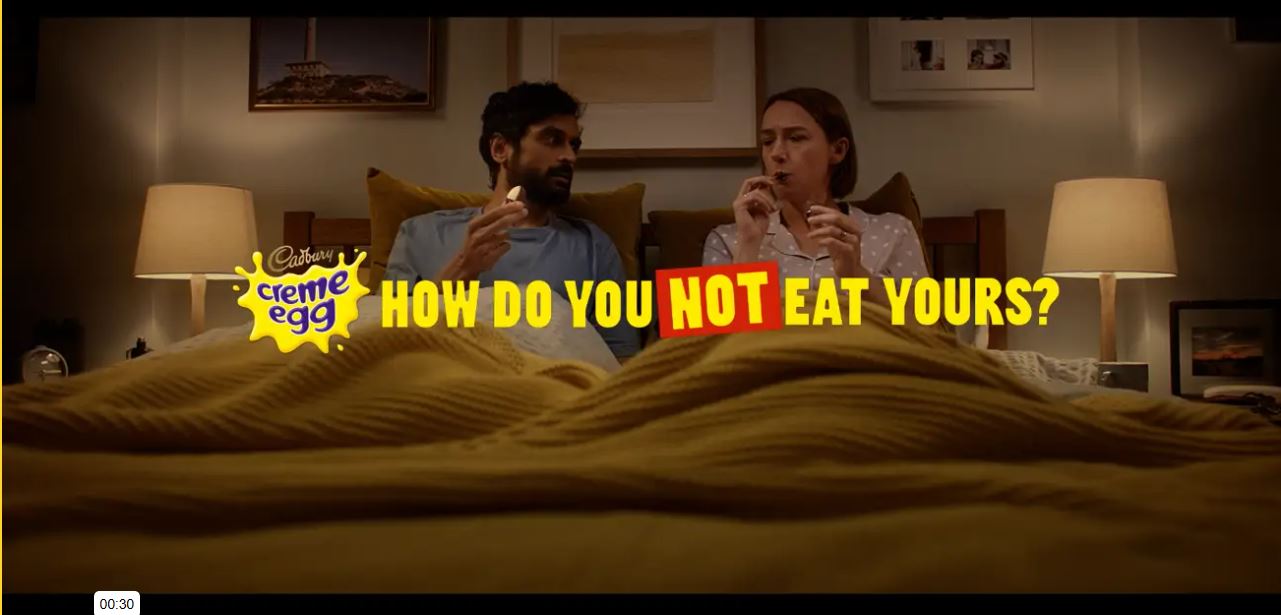 Aside from hosting Easter promotions, planning an Easter social media campaign will also benefit your small business as it is an effective way to engage with your audience. Take a look at Cadbury's How Do You Not Eat Yours Easter campaign, which included uploading promotional videos on IG and FB aside from the two films. These videos generated over 40,000 and 18,000 views respectively.
When done right, harnessing the power of social media to turbo-charge your Easter campaign can spread brand awareness faster and help with advertising efforts. With the perfect combination of content and audience engagement strategies, it's definitely possible for campaigns to go viral!
Easter Marketing Idea #4: Focus On Unique Selling Points (USPs) To Stand Out
Other than using Easter colours and motifs and developing social media campaigns, a successful Easter marketing campaign also needs to set your business apart from the competition. You want to catch your audience's attention and make them remember your brand. A great way to do this is by focusing on your Unique Selling Points (USPs). Take inspiration from these best Easter campaigns, which certainly made noise in the past.
If you're looking to appeal to those who prefer savoury treats to sweet ones, take a page from Walker's Sensation's 2020 Easter campaign. They launched a limited edition Easter egg bundle that included a bag of Sensations Thai sweet chilli crisps, a bamboo snack bowl, a bottle of wine, a pair of wine glasses, and a credit for Amazon Prime Video. Walker's Sensations are known for its bold and exotic flavour combinations that allow snack lovers to experience new and exciting tastes. By incorporating the Thai sweet chilli crisps into the Easter egg bundle, they were able to showcase their commitment to offering a different snacking experience. It was also a unique and unexpected take on the Easter egg that sets them apart from the competition.
With so many different Easter eggs available at the supermarket, Aldi came up with their own unique twist in 2020 – alcohol-infused Eater eggs. These eggs, one with Gin and Tonic and the second with Prosecco, were an adult-oriented take on the traditional Easter egg, which showcased the idea that Easter isn't just for kids. Adults can have fun too!
The examples above show that even brands like Walker Sensation and Aldi can get creative with their marketing campaigns by sticking to their USPs.
Hop Into Easter Marketing Success With An Award-Winning Online Marketing Agency
Easter is an egg-cellent opportunity to boost your brand and tap into the holiday spirit with exciting marketing campaigns.
Looking at past successful Easter campaigns can help you develop with a successful campaign this Easter 2023. With the right marketing ideas, you can engage existing customers and attract new ones at the same time. We guarantee the above four actionable tips can help you boost your sales and jump into springtime success!
How about also choosing to partner with an award-winning agency like First Page this Easter 2023? With the experts in our online marketing agency, we can help you create unforgettable marketing campaigns that will engage your audience and increase brand awareness.
So why wait? Get in touch with us today and jump into Easter marketing success.