Featured Snippets: How they can Boost online Traffic and How to get into them
According to Search Engine Watch, Google Featured Snippets provide users with answers to their search queries. These answers are extracted from a website which ranks at the top of a user's Google search. Also, they usually rank above websites picked up by Google. Featured Snippets are not to be confused with Google Answer boxes, as featured snippets contain the websites linked to the answers. A snippet could actually boost your web traffic.
The screenshot below shows what exactly a featured snippet is:
According to Moz, some web pages get featured on Google organic searches because they provide the most comprehensive and quality answers but also have the strongest SEO. They essentially have the highest rank on Google searches.
Furthermore, Bright Local reported that web pages that get into featured snippets often contain content that has lists, tables, questions, visual imagery, and videos.
More importantly, getting into Featured Snippets on Google is an easy way to increase traffic and click-through rates (CTR). Moz has also noted that most websites that have been in Featured Snippets experienced a humungous increase in online traffic and CTR.
In other words, being in Featured Snippets guarantees internet success! Here are 3 easy ways to get into them:
1. Structure your Content in a way that answers Questions
First, when crafting content, make sure it is structured in a way that answers a specific set of queries. According to the Content Marketing Institute, Google Algorithm picks up the best answers to users' search queries but selects the best one for the Featured Snippet. List out potential questions users could have. This increases your chances of being picked up and featured by Google. Here are some examples:
How to Write a Thesis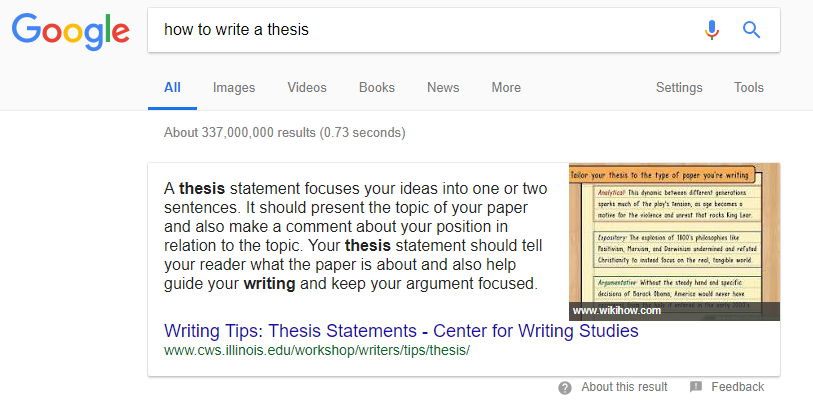 What is Digital Marketing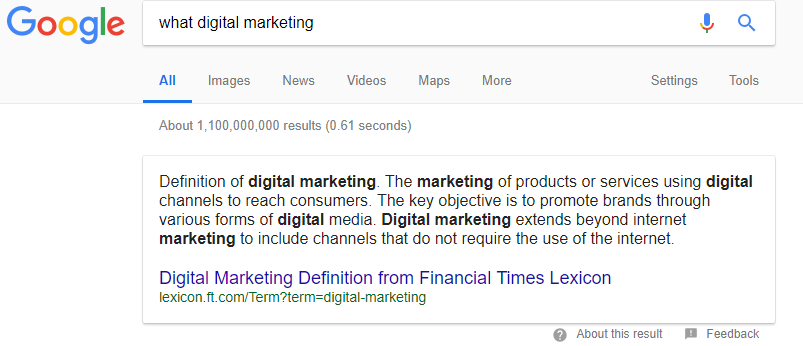 Why is E-Commerce Important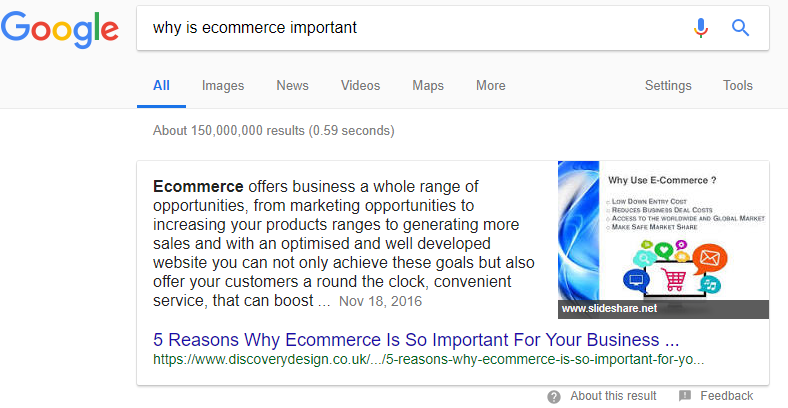 2. Use Interrogative Words in you Meta Titles
Next, try including interrogative words. Interrogative Words include Who, What, When, Where and How.
Julia McCoy of the Content Marketing Institute claims that meta titles with interrogative words are the most likely to be highlighted in Featured Snippets or ranked on the first page of the search results. This is due to the fact they provide clear answers to specific questions.
The following are some examples of meta titles with interrogative words:
What is Digital Marketing?
What is SEO?
Why is E-commerce growing?
Can keywords improve SEO? Yes, they can! Here's how.
How can you increase your CTR? Here are 13 ways.
3. Do your Homework: Use SEO Keywords
SEO-friendly content is critical in improving your chance of getting into Featured Snippets. After all, SEO content is the foundation for getting picked up by Google. Do your research and come up with a short list of powerful keywords that you can use in your content. Moreover, you can improve your chances of getting picked up by Google and getting featured in a snippet simply by using the right keywords.
Moreover, Bright Local suggests utilizing keyword software to choose the best keywords for your website. Click here to read more about IT solutions to improve your SEO and climb your way to the top of the Google search results.
Tip: Finally, be sure to include quality content that is valuable too. Otherwise, you risk getting slapped by Google Algorithms.
Want to know how to write persuasive content for your website? Click here for some helpful guidelines.