Google is Rolling Out Mobile-First Indexing For Select Sites
Google recently announced that it would be changing the way its algorithms index the web pages that appear on its search engine. In order to index the pages of a website, Google will now check the mobile version of your site for relevant data not the desktop version, the extracts of which will then be shown on the Google search results.
To be honest, Google's mobile-first indexing move is not exactly surprising when you consider the fact that the majority of users access the internet through their mobile phone. However, it's interesting to note that this new mobile-first indexing will not be a separate search result index but will rather replace desktop indexing altogether.
Of course, webmasters have always known the importance of making sure that their sites are mobile-friendly so that they can improve their search engine rankings while keeping in mind that content quality beats any and all indexing rules. After all, it's true that non-mobile friendly pages have as much a chance of getting high rankings as mobile-friendly ones.
However, the question remains; how will you know when your site has been shifted by Google to the mobile-first indexing? Apparently, Google will notify site owners via the Search Console, and the site will also start getting a little extra attention from the Smartphone Googlebot. Most importantly, Search results will only show the mobile version of the website and the changes will also be evident in the Google cached pages.
Here is an example of one of the messages that came through Google's Search Console for one of our clients –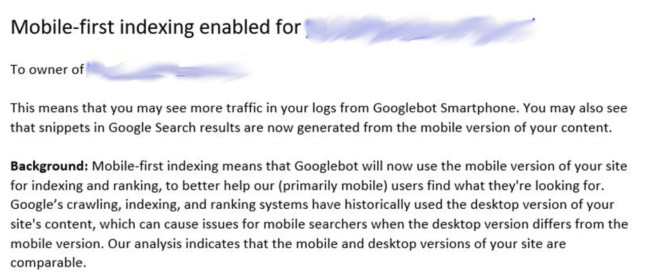 The most important factor, it seems, is to have information that's relevant and valuable to the user, because when searching for information, internet users look websites with valuable data first, and mobile-friendly ones second.
That said, Google will still continue to reward mobile-friendly sites with a higher ranking, either by increasing their search result rankings or through its most recent innovation which involves ranking high fast-loading web pages and down-ranking slow ones based on a specialized signal. What this tells us is that mobile-friendly web pages will generally see better mobile search result rankings than sites which have been slow on the uptake.
On the bright side, Google says that mobile-first indexing will happen on a gradual basis and that they're going to start with websites that were already compliant with mobile-first indexing and give them priority. This means that Google will give first preference to the mobile version of these sites' web pages over their own AMP pages, regardless of how fast-loading the AMP pages are.
With all that said, mobile-first indexing is not in full effect yet, which means that websites that aren't yet optimized for mobile viewing will still appear on search results. So far, Google hasn't provided users with any specific date on when mobile-first indexing will be fully rolled out but it would definitely be a good idea for site owners to start preparing for the changes now so that they're mobile-friendly by the time Google rolls out the mobile-first indexing on a global scale.