How to Nail Your Google Display Advertising in 2022 Like a Pro
Display advertising might be one of the most versatile means of paid advertising. You can play with ad banners of various shapes, sizes and colours. One could even deploy display banners on numerous channels like apps, video platforms, blogs, social media and more. But Google display advertising in 2022 is about to change, big time. If you have been recycling the same old strategies each year, you might want to try jazzing things up this year for your internet users.
Paid advertising and other forms of pay-per-click strategies might get you fast revenue, but it is going to take a lot more than fancy.
What is Display Advertising?
Before you get started on refining your display ad campaign, you first need to understand the Google Display Network.
WordStream's Margot Whitney explains Google AdWords as a digital platform powered by a Search Network and a Display Network.
As their names suggest, advertising on the Search Network incorporates placing ad texts in research engine results. The Display Network operates a little differently. Instead of ad texts, businesses place display ads on advertising-supported sites on the internet.
Here's an example of a display ad (image of the cocktail on your right) we saw while browsing the internet from The Smart Local: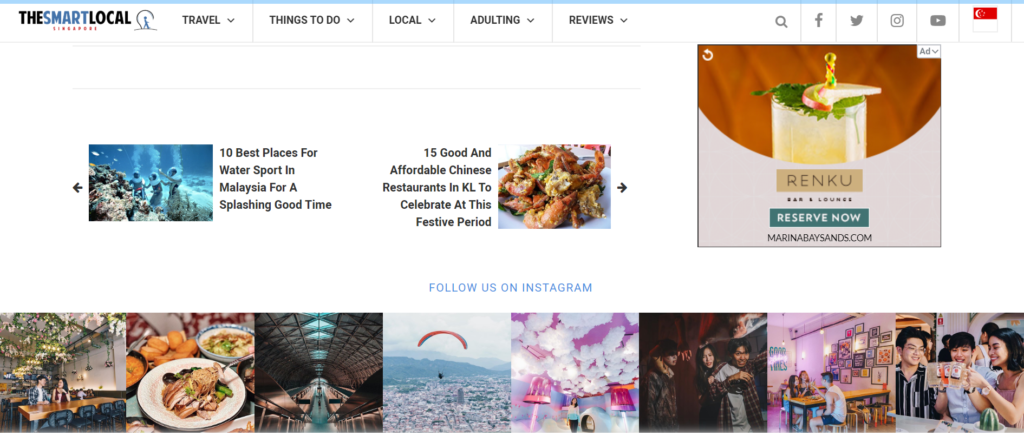 Think of your display ads like visual adaptions of your ad texts. They convey key promotions and information about our products and services that empower your target audience. You promote your brand with eye-catching visuals and smart messages.
But this begs the question…
Does Display Advertising Actually Work?
Yes! It works very well. In fact, according to Wordstream's report, "Display Advertising Reaches $1 Billion in U.S. Market Share", display advertising has grown at a rate of over 30% annually since 2011.
The report also reveals that display advertising accounts for nearly half of all online marketing spend. And if you are wondering how much money you should allocate to display advertising, here's what Wordstream says:
"If you're spending less than 5 percent of your total budget on display, you're not doing enough."
In fact, the largest companies use display advertising to reach millions of people every day. For instance, Facebook uses display ads to connect with its 1.3 billion monthly active users.
And as a result, they generate billions of dollars in revenue every year.
So yes, display advertising does work. But it takes some planning and strategy to make sure you maximize your ROI.
So, if you are planning to invest in display advertising, make sure you do so wisely. Here are some growing trends to help you nail your Google Display Advertising in 2022.
3 Growing Trends for Google Display Advertising in 2022
Like other forms of digital marketing like social media, you can expect new trends and developments for Google Display Advertising in 2022.
Here are a 3 them (with stats as proof):
1. Leaderboard Ads
Finance Online highlighted that specs of 728×90 (AKA Leaderboard Ads) tend to get higher click-through rates (CTR) than other displays. They also made up 57% of display ad sizes in 2019. These ads are most often placed at the top of web sites. They are seen as soon as a page loads and thus capture a wide audience.
Typically, leaderboard ads are not available via auction buy. As such, you would need to get in touch with your Google Ads account manager to enquire for spaces such as YouTube's home page banner ad space. Additionally, a minimum spend will be required, which in turn will deliver a minimum guarantee of impressions.
2. Video-Marketing
We weren't kidding when we established that video marketing was going to be HUGE this year and we have the stats to prove it. Business 2 Community noted a whopping increase in CTR by 18.4% on display ads that incorporate videos.
This means that adding a short video clip to your display ad text increases its chances of being clicked. Additionally, videos are easier to digest than lengthy blocks of text. So, don't underestimate the power of a few seconds of video!
Videos for effective display ads should cater to both desktop and mobile users. This way, you'll ensure that your message reaches everyone regardless of their device. To do so, multiple versions of your video should be uploaded (more on this in responsive display ads below).
3. Automation
Hate to say it (actually, not really) but we told you so.
Automation is steadily finding its way into digital marketing and you better educate yourself to be up-to-date with the latest in the digital space!
Single Grain reported than programmatic advertising will the in-thing for Google Display Advertising in 2020, so much so that at least 86.2% of display ads in the US will be programmatic.
Already, several different AI tools exist to help digital marketers with their display ads campaigns. The Smart Ads Creator by Wordstream is one example, helping to speed up the display ad creative design process. Users can simply input their website URL and allow the tool to scan for the most effective visual and text assets. From there, HTML5 banner ads are created with input of your business goal.
How to Slay at Google Display Advertising in 2022
Ready to slay?
Here's how you can nail your Google Display Advertising in 2020!
1. Incorporate Moving Visuals
Earlier, we mentioned that video marketing is going to be popular in display advertising this year, so this should come to no surprise.
Not surprisingly, videos tend to get more engagement and impressions. This is true for social networks like LinkedIn, too.
Moving visuals are not contained only to minute-long videos. In fact, you could experiment with GIFs and boomerangs.
2. Leverage Remarketing
Remarketing has been around since the beginning of online marketing. However, it wasn't until recently that remarketing became an integral part of digital marketing. In fact, remarketing is one of the best ways to drive conversions. It works because people who visited your website previously are still interested in what you're selling.
When remarketing is in place, each time a user visits your website, a cookie from Google is assigned to them. Based on this cookie, the display ad network is able to serve ads specifically to these same users. In doing so, contextual targeting can be used to boost your display ad performance.
For example, you could serve the exact same products as part of your display ads to past users with limited time offers. Not only does this increase the chances of actual purchases, but you would be able to effectively track the customer journey.
3. Contextual Advertising
If content is king, context is queen.
Contextual advertising helps you target users who are searching for products and services that are correlated to your brand. Here's an example: say you are tour agency. You might want to have display ads on booking websites for hotels and flights. It helps you reach users who will find use in your products.
Part of any display advertising platform, contextual advertising options are provided where you can pick website niches or even specific websites to place your ads on. This is particularly important where you have limited time offers that are directly relevant to a content website's niche.
4. Make Use of Managed Placements
Managed placements allow you to decide which sites you want your ads on. You can also set unique bids for each site to boost the prevalence of your ads. Importantly, any successful display ads campaign involves constant vigilance against harmful placements.
Ultimately, you won't want you ads appearing on websites that contradict your content or which are harmful to your brand.
5. Play with Colours and Other Visuals
What makes a display ad pop is colour and effects. Play around with loud colours and interesting video effects to give your display ads an edge.
Try to be consistent with your designs – after all, this could help with your branding and you'd want your brand to be recognized in an instant!
6. Include a Call-To-Action
What gets leads is not just captivating visuals. Instead, it is a call-to-action which prompts users to click on your ad. With that in mind, incorporate eye-catching font which entices your readers. A simply "Click Here" or "Book Now" could work wonders for your leads.
Wish to improve the click through of your CTAs? Make sure to pair it with a limited time offer that spurs actions from your audience.
7. Responsive Display Ads
Google's responsive display ads automatically match your images, headlines, and descriptions for websites, apps, YouTube, and Gmail. This empowers the Google Display Network to find the best performing combination for your conversion objective.
Additionally, responsive display ads also automatically adjust size and format to match available ad spaces on any specific website or device. This saves you valuable time for making different formatted creatives for your display campaigns.
It is recommended that you upload at least 3-5 static images and ad copies for Google Display Ads to sample during the learning phase. This grants sufficient bandwidth to reach potential customers and a wider audience while the AI technology works to improve conversion rates.
Humans Are Visual, So is Marketing
While stellar content may get you organic clicks, appealing visual ads are the way to go if you want fast revenue. All in all, in expanding your marketing efforts beyond search engines, you can reach your target audience easily!
Then again, nailing your Google display advertising in 2022 will take strategy and creativity. If you need some help with your Google ads, we might be able to help. Enquire with the leading Google Ads Agency for a customised ads strategy.